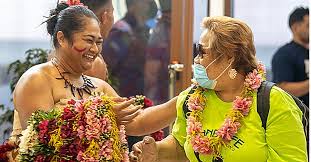 It's official. All health restrictions for travelers including mandatory COVID-19 testing have been scrapped, allowing anyone to enter Samoa freely effective today, Thursday 22 September.
The announcement was made by Acting Prime Minister, Tuala Iosefo Ponifasio following Cabinet deliberation and approval in its weekly meeting.
Tuala said Cabinet's meeting on on Wednesday decided to remove all restrictions and related conditions from the Samoa Government's current travel advisory to allow the full opening of borders.
This includes the removal of mandatory PCR or Rapid Antigen Test (RAT) for COVID-19 as a requirement to enter Samoa.
Visitors to Samoa will no longer need to show any proof of a vaccination card and there will no longer be any more testing needed upon arrival at Faleolo International Airport or any port of entry.
However, the Acting Prime Minister advised that travelers are still required to complete health arrival cards and any false declaration will be penalised.
Members of the public are still encouraged to comply with health hygiene practices like wearing face masks.
Tuala noted that following the celebration of Samoa's independence, there has been a surge in travelers to Samoa and the country remains safe, a factor attributed to the high vaccination rate.
He revealed 94 percent of the eligible population age 18 years old and over have been fully vaccinated.
Those from the age of 12 to 17 have a rate of 93 percent and 92 percent for those 5 years to 11 years old.
The latest press release from the Ministry of Health shows 36 new covid cases were recorded over the seven day period to last Sunday with three in managed isolation.
In total Samoa has an cumulative total of positive cases (border and community cases) of 15,925 since the virus was detected on island.
The statistic show a total of 345 cases admitted by hospitals stands since the first case was detected on 17th March 2022 with 307 discharged.
The country's death toll since March this year stands at 29.
In terms of the proportion of COVID-19 community cases infection by gender, 43 per cent are males with 57 per cent females.
SOURCE: SAMOA OBSERVER/PACNEWS