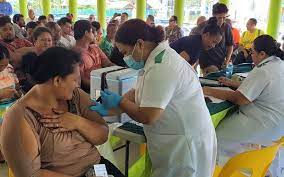 Samoa's State of Emergency and Alert Level One lockdown conditions will be lifted on 26 July as the country moves to open its international borders from 01 August 2022.
Chairman of the National Emergency and Operations Centre, Agafili Shem Leo and the Acting CEO of Health, Tagaloa Dr Robert Thompson gave an update of the current Covid-19 situation leading up to the opening of borders.
In the past 48hours, 60 new cases were recorded boosting the number of community transmission cases to 15,088 since the first community case was recorded 17 March 2022.
A flight in early July from Australia and Fiji recorded over 5 new cases bringing the border cases to 155.
Since the outbreak in March, the Ministry of Health recorded 294 Covid-19 admissions at the hospitals and the death toll remains at 29.
The opening of borders is based on a solid and high vaccination rate and the Ministry is continuing the Pfizer vaccinations for the first, second and booster doses.
For the 18+ age group, 93.6% have completed their first 2 doses.
For the 12-17 age group, 92.4% have completed the first 2 doses.
For children 5-11 years old, 94.1% have completed the first 2 doses.
For first round of Booster doses, 77,140 have completed their booster doses.
The second booster which was opened to the public in July, have 189 who have completed the second booster.
The second booster is not compulsory, except for front-line workers and people with permanent illnesses.
According to Dr Tagaloa, there are enough vaccines for adults for Covid-19 and another lot of vaccines for children aged 5-11 years old arrived last week.
"Currently, the Ministry of Health is awaiting an official response from WHO on examinations on vaccines eligible for children aged 4 years old and younger," he added.
"Hopefully by the end of the year, a vaccine will be made available for children aged 4 years old."
Last week Thursday, results for samples sent to New Zealand were returned and the sub-variant mainly circulating across the country is Omicron BA 1, which is the same variant circulating in New Zealand and Australia.
However, the Omicron BA.4 and Omicron BA.5 is also currently spreading faster in New Zealand and Australia.
For the Influenza-like illness or common flu currently spreading in Samoa, Dr. Tagaloa reported that the rate of cases daily is not less than 250 people.
Over 2,000 cases were reported last week from district hospitals and the main hospital at Moto'otua.
Dr Tagaloa said the Influenza B and RSV (respiratory seasonal virus) of the influenza-like illness is spreading across all age groups.
SOURCE: TALAMUA ONLINE/PACNEWS