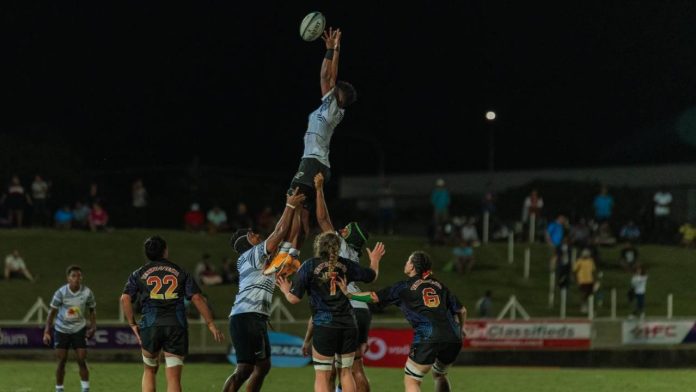 After the first test match against Wahine Maori, Fijiana 15s coach Senirusi Seruvakula now has a clear idea of areas they will need to focus on in the week.
The side has less than five days to prepare for third ranked Canada and Seruvakula is adamant not to leave any stones unturned.
Seruvakula says the 32-10 victory was a clear indication the side is heading into the right direction but they will need to work on certain areas like their set pieces.
He said the test match comes at the right time in terms of preparing them for a much tougher competition in New Zealand.
"It's good that we finally play some quality games, we have a lot of lessons to be learnt, we cant afford to have a lot of errors like and we have to lift our skill level so that's one of the points and we will work on our set pieces going towards a big game like Canada."
Meanwhile, Fijiana 15s put up an amazing show beating the New Zealand Wahine Maori 32-10 in the Vodafone Fiji Rugby Women's Test Series at HFC Bank Stadium in Suva.
The Senirusi Seruvakula-coached side showed sheer determination starting the match with a bang against the visitors.
Winger Vitalina Naikore was the star of the night scoping a hat-trick, two tries in the first half and one in the second half.
Joma Rubuti opened the scoresheet for Fijian as she cut through the opponent's defensive line for the first try.
The NZ Wahine Maori side replied straight away with a well-read interception and try from Merenia Paraone. The match is picked up its momentum as Rooster Chicken Fijiana 15s controlled the pace of the game it was Roseland Radiniyavuni this time scoring for Fijiana.
Vitalina Naikore who is always the best in her business defeated three defenders and divided in the corner for yet another try. She scored a second try before NZ Wahine Maori pulled their second try.
Fijiana took a 20-10 lead at the breather.
Naikore completed her hat-trick in the second spell while Alowesi Nakoci got her first try as Fijiana sealed the deal in style.
Coach Seruvakula said it's good to get a win but there is a lot of work on especially with the front row.
Our front-row had to do overtime and that's one key areas we are working on. There is no depth chart for forwards but we have time to polish a few areas.
He added "There will be changes in the second match against Canada as I have to test all my players in the extended squad."
Rooster Chicken Fijiana takes on Canada in its second match, 6pm at HFC Bank Stadium on Friday.
The Fijiana 15s is ranked 21st in the Womens rugby standing.
SOURCE: FBC SPORTS/FRU/PACNEWS