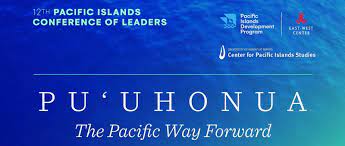 The leaders of nations and territories across the Pacific will be gathering from 12-14 September for the 12th Pacific Islands Conference of Leaders (PICL), titled "Puʻuhonua: The Pacific Way Forward."
Founded in 1980, the summit provides a rare opportunity for island leaders from the North and South Pacific, regardless of political status, to come together as equals to discuss and address development goals and challenges while exchanging ideas and unique experiences.
Leaders' private meetings during the summit will be closed to the public and press, but a series of panel discussions and side events, as well as summit closing remarks, are open to media and the general public.
The leaders are expected to identify shared regional priorities to guide the work of its Secretariat, the Pacific Islands Development Program (PIDP) based at the East-West Center in Honolulu.
Key topics include:
* Climate change impacts, action, and financing
* COVID-19 pandemic recovery
*Industry diversification
*The "2050 Strategy for the Blue Pacific Continent" that Pacific Island Forum leaders have endorsed
* United States, Australia, New Zealand, Japan, Korea, and China in the Pacific
The leaders of Pacific countries and territories have confirmed participation in the meeting as of this time include Cook Islands, Federated States of Micronesia, Fiji, French Polynesia, Guam, Hawaii, Republic of the Marshall Islands, Nauru, Niue, Commonwealth of the Northern Mariana Islands(CNMI), Palau, Sāmoa, Solomon Islands, Tonga and Tuvalu.
The Pacific Islands Conference of Leaders (PICL) summit, a council of 20 member governments, was founded in 1980 by Hawaii Governor George Ariyoshi and Fijian Prime Minister Ratu Sir Kamisese Mara as a forum for Pacific Islands leaders—regardless of political status and without formal intergovernmental protocol—to address shared issues, learn from each other's experiences, and develop common approaches to policy. The summit also provides opportunities for the leaders to dialogue with U. S officials and experts.
SOURCE: PICL/PACNEWS