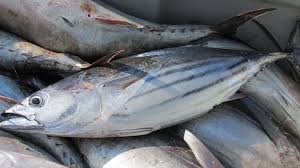 Kiribati is over-reliant on income from access payments by distant water fishing fleets, according to a newly published study.
An examination of climate change vulnerability of the island found that the country has become over-reliant on revenue from offshore foreign-flagged purse seine tuna fishing vessels. The country earns around 80 percent of its revenue from fees charged to tuna companies accessing its 3.5 million square kilometer exclusive economic zone.
The report said the island needs to open up to alternative revenue sources like tourism, while also urgently dealing with environmental woes and waste management.
Co-produced by the Stimson Centre alongside the Kiribati Ministry of Environment, Lands and Agriculture Developments and the Commonwealth Secretariat, the report calls for flood management and mitigation – including seawalls alongside restoration of key marine ecosystems like coral reefs.
Efforts to diversify Kiribati's economy meanwhile should include "developing sustainable coastal tourism and harnessing human capital by investing in green innovation and entrepreneurs [to] reduce reliance on fishing industries which are themselves at risk," noted the report.
Kiribati in 2019 switched diplomatic allegiance from Taiwan to China, which has been keen to offer Kiribati and other Pacific Island states aid packages in return for tighter economic and political relations. Among the Chinese fishery firms with vessels in Kiribati waters is Zhejiang Ocean Family, a major player in Chinese tuna processing and distribution.
China has promised Kiribati training in fisheries and tourism. Officials from the island attended a two-day conference last month in China's Hainan province which also saw the signing of an agreement for the launch of the "South International Fishery Tourism Cooperation Demonstration Zone" which will "train talent for the leisure fisheries industry."
China has also given the country aquaculture training, with the Chinese province of Hubei sending experts to the nation to conduct training in commercial aquaculture. Kiribati also made the controversial decision to open the Phoenix Islands Protected Area to commercial fishing, a plan Kiribati Fisheries Minister Ribanataake Tiwau outlined during the first China-Pacific Island Countries Forum on Fisheries Cooperation and Development in 2021.
SOURCE: SEAFOODSOURCE/PACNEWS