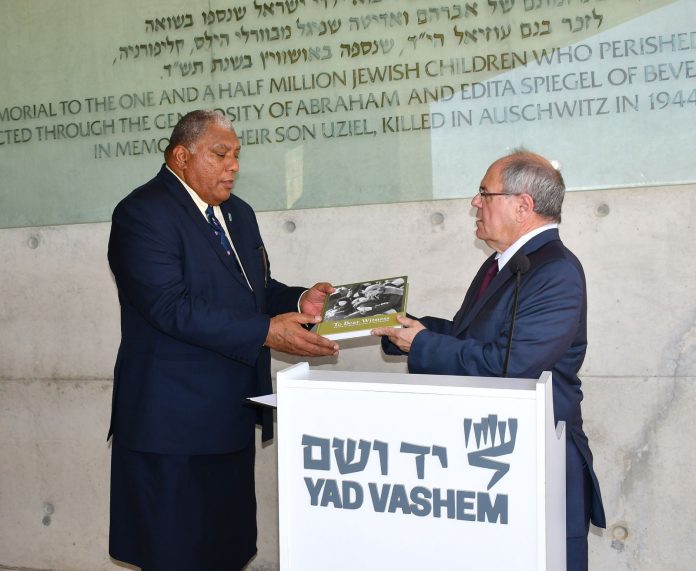 Fijian President, Ratu Wiliame Katonivere today paid a courtesy call to the President of the State of Israel, Isaac Herzog at his residence in Tel Aviv.
Expressing his pleasure at the visit, President Herzog said Fiji has always been a friend of Israel and the state visit is testament to the relationship of the two countries.
President Katonivere on the other hand thanked the Israeli President for receiving the Fijian delegation.
"I am honoured to be here and have always seen Israel as Fiji's friend and one that has worked closely with our forces serving in the UNIFIL, MFO, and UNDOF," said President Katonivere.
"I am positive that this visit will further cement our two countries' diplomatic relations and be beneficial to our people."
Discussions between the two Heads of State centered around diplomatic ties between the two countries, climate change and assistance by the state of Israel to Fiji especially in the field of agriculture and water production during disasters.
Also, part of the meeting was Fiji's Ambassador to the United Arab Emirates Naipote Katonitabua, and Official Secretary to the Office of the President Kiti Temo.
Following the meeting at Israel's State House, President Katonivere visited the Holocaust History Museum and the memorial at Yad Vashem where His Excellency was given a tour of the museum and later, after a brief memorial service, laid a wreath to commemorate the lives of Jews who were victims of the Holocaust in Europe.
A similar visit was made to Mount Herzl where five of Israel's prime ministers: Levi Eshkol, Golda Meir, Yitzhak Shamir, Yitzhak Rabin, and Shimon Peres are buried with late Israeli presidents on Mt Herzl, as are other prominent Jewish and Zionist leaders.
The Head of State also laid a wreath in remembrance of the late leaders.
President Katonivere will visit Fijian troops in the Golan Heights later this week.
SOURCE: FIJI GOVT/PACNEWS