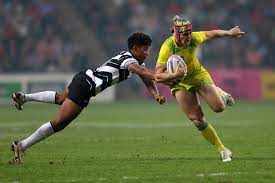 ONOC is delivering this Digest in partnership with The Reporters' Academy and the Pacific Islands News Association(PINA).
OCEANIA'S DAY AT THE GAMES – DAY 3
Monday saw Papua New Guinea win their first medal of these games and a first for the Pacific Islands in Birmingham. As we head into day 3 more of our athletes are performing at their peak, winning medals, and wearing their country's colours with pride.
Cook Islands
16-year-old Lanihei Connolly has been one of the standout stars of these Commonwealth Games for Cook Islands. Making her debut at the Games she has already two personal bests and a semi-final under her belt and as she went into the pool today the question was, could she yet again continue to impress the crowds with her performances?
Diving into the pool with a reaction time of 0.68 seconds the swimmer powered down the pool in the 50m Butterfly to touch the wall with a time of 28.84 seconds, another PB to add to her collection. Tomorrow sees the young star competing in her favoured Butterfly stroke.
It isn't just Lanihei who has been putting the Cook Islands on the map in the swimming pool at the Games. In the 3rd heat of the Men's 50m Backstroke Aitu Bede started the race in lane one and managed to finish 5th with a time of 27.89 seconds, beating his previous personal best, which he secured at the World Championships in Hungary this year.
Commenting on his performance and time at the Games Aitu said, "It was my first time breaking 28, so I'm very happy with a 0.3 PB and I'm loving it: the atmosphere, meeting new swimmers …and the village is awesome."
Wesley Roberts put in another great performance in the 8th heat of the 50m backstroke, just over 0.4 seconds off making the next round.
At the Lawn Bowls, Men's Pairs Alex Kairua and Phillip Jim took on the Malaysian pair of Muhammad Idham Amin Ramlan and Fairul Izwan Abd Muir in an entertaining match on Rink 1 that finished 19-15 to Malaysia. In the Women's Singles Nooroa Mataio was in Quarter Final action against another Malaysian athlete in Siti Zalina Ahmad, the match finished 21-14.
Fiji
It was a big day for Fiji on the Rugby 7's field as the Women had already secured their place in the Gold medal match, which would take place later in the evening and if the men could get past the All Blacks in the semi-final they would set up a clash with South Africa meaning the team would be guaranteed to end the day with two medals.
In a repeat of the Tokyo Olympic final, Fiji went up against current Rugby 7s World Champions New Zealand. In an exciting first half New Zealand were first on the board, before they extended their lead to 14-0, just before half time Filipe Sauturaga managed to score a try, which then was followed up by a conversion by Captain Waisea Nacuqu.
With a big second half ahead, Sevuloni Mocenacagi scored a try, which was then converted to bring the team level at full time. As the match headed into extra time Waisea Nacuqu yet again put in a stellar performance to score and seal the win for Fiji. A massive effort by the whole team meant Fiji progressed to the Gold medal match later in the evening.
Both the Womens and Mens teams headlined a stellar final line up for Rugby 7s, both teams outstanding and both teams going for Gold.
In the Women's final Rusila Nagasau led her team out onto the pitch for one of their biggest ever matches. Their opponents, Australia got off to a quick start as they raced into a 15-0 lead, including two tries from Faith Nathan, but as the team headed into half time, Fiji had the quality to overturn the result.
At the start of the second half Australia scored another try before Ana Maria Naimasi got Fiji on the board leaving the match poised at 22-7. After a tense period, Fiji scored a try in the final seconds of the match, which finished 22-12, meaning Fiji Women won a Silver medal, an incredible result for the team, who finished 5th at the previous Games.
In the final match of the tournament Fiji's Men took on South Africa for Gold and it was Muller du Plessis who scored first points of the match for their opponents making it 7-0. After two more tries from South Africa it was 22-0 at half time.
Another try by South Africa was followed by Fiji captain Waisea Nacuqu getting the team on the scoreboard to make it 24-7. The match ended 31-7 and Fiji took home the Silver medal.
At the Aquatic Centre, team Fiji, fresh from being part of Fiji's men's relay team that made the final last night, Hansel McCaig was in the pool competing in Men's 100m Freestyle heats. Finishing with a time of 51.78, Hansel said he was happy with his time and there was a particular member of his family he wanted to dedicate this race to, "my grandmother has always shown a passion in just helping me out in the pool. She has been there for every session, every training and competition. This is the first competition I've been without her. Nana I love you, thank you for putting up with me. this one is for you."
Boxer Elia Rokobuli was competing in a round of 16 clash against Ghana's Abdul Wahib Omar, during the first round, the referee stopped the contest and Ghana's athlete was declared the winner.
At the Lawn Bowls Fiji's Women's Fours and Men's Triples team both won their Quarter Final matches, 15-12 and 15-14 respectively, meaning both teams moved into the semi- finals to compete for a place in the Gold medal matches.
And in Squash, Fiji's Marika Matanatabu won both of his round of 32 and round of 16 matches in the Men's Singles Plate competition.
Kiribati
The only athlete competing for Kiribati today was Ruben Katoatau in the Men's 67kg Weightlifting final. During the snatch element, Ruben successfully lifted 106kg, 110kg and 114kg leaving him sitting in joint 5th.
In the clean and jerk Ruben's heaviest lift was 144kg and he maintained a clean card for his entire competition, the only athlete in the final to do so.
Ruben is competing at his second Commonwealth Games and thought inspiring the next generation of athletes was important as he had this message, "I'm really happy with my performance today and I just wanted to tell everyone around the world and in my country Kiribati to try out a new sport, whether it's weightlifting or a new sport, give it your all."
Nauru
For team Nauru their day started on the Weightlifting stage at Birmingham's NEC Arena.
Just yesterday Ditto Titus Ika turned 16. Now he was walking out onto one of the biggest stages of his career. Despite his age Ditto perfectly fitted into the world class field, as he made his debut at the Commonwealth Games in the Men's 67kg.
After a failed first attempt of 105kg in the snatch element competition, Ika stepped out to raucous cheers from a packed crowd and on his second attempt successfully lifted 105kg, the highest he would achieve in that round.
In the clean and jerk section, he started with a weight of 135kg, which he successfully lifted, his next attempt was equally as successful with 140kg loaded onto the bar. For his third and final attempt Ditto tried to lift 145kg, which proved too much on the day, meaning the 16-year-old finished with a 6th place finish with a total of 245kg. The future looks bright for the young athlete from Nauru, and we hope to see him wow the crowds again in Victoria in 2026 for the next Games.
In the evening section Ezekiel Moses lifted a total of 285kg in the Men's 73G Weightlifting final, this was a combined 130kg snatch and 155kg clean and jerk.
Niue
In Leamington Spa at the Lawn Bowl rink Niue had their Men's Pairs and Women's Singles entry in action. First up was Olivia Buckingham who took on host nation England's Amy Pharaoh. It was a tight first eleven ends as the score was tied on 10-10, but the athlete from England then kicked on and gradually stretched out a lead that unfortunately Olivia wasn't able to reel in. The match finished 21-16.
Next up for Niue Lawn Bowls was Tukala Matua Leomotu Tagelagi and skip Dalton Emani Makamau Tagelagi. The pair raced into a 7-2 lead by the eighth end against the Canadian pair and tried to hold off a charge by Ryan Bester and John Bezear but the match ended 20-9.
Norfolk Island
Norfolk Island had three matches on the Lawn Bowl rink today, the first being Men's Pairs John Christian and Tim Sheridan, who took on Daniel Salmon and Jarrad Breen from Wales.
The Welsh pair raced into an early 3-0 lead after end one but the resilient duo from Norfolk Island didn't let that phase them as they put in the work to draw the match level by end 4. As the match progressed Wales continued to get points on the board and by end 9 they were leading 14-3. John and Tim were determined to fight for their place and over the next few ends started to chalk up points boards but despite their best efforts the match finished 19-16.
Women's Fours Ellie Dixon, Petal Jones, Essie Sanchez and skip Carmen Anderson went into their Quarter Final against India hoping they could continue their fine form. Unfortunately for the quartet it wasn't meant to be and they lost the match 17-9.
Finally, Norfolk Island Women's Singles entrant Shae Wilson, who so far has a 100% record in the competition was in Quarter Final action against Wales' Laura Daniels. Shae led 4-0 after two ends in the match but by end 10 the Welsh athlete had settled into the match and was now leading 11-7.
Shea then found the form, which saw her top her qualifying group as she then went onto win the next 10 points unanswered with the match finishing 21-11, a dominant victory for Shea who now advances to the semi-finals and tomorrow will face Australia's Ellen Ryan for a place in the Gold Medal match.
Papua New Guinea
In his first-round fight on day one of the games PNG flag bearer John Ume beat his opponent 4-1 on points, and he headed into his round of 16 class in the Men's Over 60kg-63kg taking on Joseph Tyers from host nation England. During the first round the bout was stopped due to injury and John exited the competition.
At the Squash PNG had three athletes in action, Madako Suari and Feanor Siaguru both lost their matches 3-0. In the women's tournament Amity Alarcos faced the same scoreline against Ashley Khalil from Guyana.
Over at the Aquatics Centre Georgia-Leigh Vele was racing in the Women's 50m Fly and finished in a time of 30.34. Georgia said whilst she hoped for a quick time she is really enjoying her first Commonwealth Games and the atmosphere was different to any other event she has competed at.
Samoa
In the Men's 67kg Weightlifting, Samoan Vaipava Nevo Ioane was one of the hot medal prospects in the early morning final in Birmingham.
With a full Samoan contingent watching on from the stands, Vaipava took to the stage in the snatch round hoping to be towards the top of the pack.
Successful lifts of 124kg and 127kg left Vaipava feeling confident heading into his final attempt, however 129kg proved too much for him and at the halfway point Vaipava was in 3rd place, behind Nigeria's Edidiong Umoafia and leader Lalrinnunga Jeremy from India who had lifted a games record 140kg.
As the athletes warmed up for the second half of the competition, the crowd were told that the Samoan had one the highest PBs in the clean and jerk, setting up a tantalising finish to the contest.
Due to his starting weight in the clean and jerk, Vaipava was the last athlete out on the stage, as current leader Lalrinnunga from India only managed to lift 160kg. With a successful first attempt of 163kg, Vaipava was back out on stage to see if he could close the gap further to those above him, and he managed to lift a new Games record of 166kg to clinch a Silver medal and Samoa's first of these Games.
Reflecting on his performance the Samoan said, "I'm pretty happy with that performance, this is my last one and they're my last games, but I'm still happy. I've been lifting for over ten years, almost 20 years, and this is a big achievement for me, so I just want to shout out to my wife and my kids and to everyone, and especially my coach and everyone in the team."
Vaipava was presented his Silver medal by Samoa's Commonwealth Games Association President Pauga Talalelei Pauga.
John Lautafi Tafi was the next athlete to take part in Weightlifting in the Men's 73kg final. After a successful first lift in the snatch of 127kg, John upped the weight to 131kg. At the first time of asking John failed to lift the weight but in his final lift on the snatch he was given the all clear and headed into the clean and jerk joint 5th.
In the clean and jerk John failed with his first attempt at 165kg and followed that up with a successful lift. Unfortunately for John it wasn't quite enough to elevate him into the medal positions and he finished 4th with a total of 296kg.
There were also strong performances in the pool for team Samoa as Olivia Borg in the Women's 50m Fly as she became the first athlete for Samoa to reach a swimming semi- final with a time of 27.42seconds. Olivia says, "that was actually a really good swim as I was 0.2 off my PB so that was nice." In her semi-final later in the evening Olivia again showed what it means to swim in the Commonwealth Games as she finished with a time of 27.37 seconds.
Kokoro Frost had a day off from action in the pool yesterday but today he was back and in fine form. In the 2nd Men's 50m Backstroke heat Kokoro was just 0.1 second over breaking his personal best as he finished his heat in a time of 28.37. Kokoro said, "my PB is 28.2 so to go 0.1 over, I'm pretty happy. The first day we got off to a flying start – a PB in our first relay for Samoa and then to come and do a 50m back, I'm just happy to be here."
Samoa Men's Rugby 7's team won their match 19-17 versus Canada in the morning session as they booked their slot in the 5th place playoff. In their final match of the Games Samoa went head-to-head with Scotland and came out on top with a score of 24-19.
Solomon Islands
Day 3 of the Games saw the start of the Women's Beach Volleyball and sitting in pool C Solomon Islands duo Hannah U'Una and Rose Gawli will take on England, Scotland and fellow Pacific nation Vanuatu over the next few rounds to see who would qualify for the Quarter Finals.
For their first match on the sand in Birmingham, Hannah and Rose took on England pair Daisy Mumby and Jessica Grimson. As the match got underway to a packed crowd, England took the early lead and team Solomon's were unable to get back on par, losing the first set 21-10. In set two England maintained the momentum they had and took the set 21-6. Despite a defeat in their first game team Solomon Islands still have it all to play for.
Tonga
It has been a busy few days for Tongan swimmer Charissa Panuve, who is competing in her third straight day of competition. In Lane 3 Charissa was off the blocks quickly in her 50m Butterfly heat, with the fastest time across the field and finished the swim with a time of 32.56. Commenting on her race Charissa said, "it's a PB, that's great, the first one at the meet and I've raced 4 races already so I'm ending today on a high."
Overall, Charissa is pleased with her performance in Birmingham, "it has been great, after a very rocky start, it wasn't what I expected at the beginning but I've slowly calmed down and got into the gist of things."
Elsewhere in the pool Finau Ohuafi competed in the Men's 100m Freestyle and finished in a time of 54.51. After the race Finau said "I've done a PB and I'm happy with that. I think it is close to one of my best experiences", and that he was "proud to represent my nation here". Alan Koti Lopeti Uhi was in the Men's 50m Backstroke finishing his heat 2nd with a time of 27.79, just 0.09 seconds off first place.
Tuvalu
Fiu Tui was flying the team Tuvalu flag today at the boxing arena as he fought in the Men's Over 71kg-75kg Middleweight category.
Fiu put in a valiant fight as the match went the distance, but ultimately when it came to the judges scores the match was awarded to the boxer in the red corner, Kemrond Moses from Grenada.
Vanuatu
Back in 2018 Miller Pata clinched a bronze medal in the Women's Beach Volleyball with her then partner Linline Matauatu. Miller is now back at the Commonwealth Games this time partnering Sherysyn Toko and are one of the favourites to advance from their group.
First up for the duo was Scottish pair Melissa Coutts and Lynne Beattie. Miller and Sherysyn showed their class and skill as they made five successful blocks in the match compared to zero from their opponents. The team from Vanuatu won the match 2-0 by winning the first set 21 points to 10 and the second set 21 points to 14.
Sherysyn was making her debut at the games and said, "It was my first time in the Commonwealth Games. I've been playing for a very long time but it is strange as there are a lot of people and big crowds but I feel more confident every game that we play."
On her partner's debut in the Games, Miller said. "I'm really happy Shereysyn came as my partner as she is really strong and athletic. She is doing her best and I'm doing my best.
Miller said the team can't get carried away and they must "take it one step at a time."
Team Oceania finished day 3 of the Games with a total of 4 medals, however it isn't just about the medals and every athlete who takes part in these Games should be immensely proud of what they are achieving, and we are loving watching you inspire the next generation of athletes.
This coverage of Oceania athletes and teams at the BIRMINGHAM 2022 Commonwealth Games is through ONOC's long-standing partnership with The Reporters' Academy. The Reporters' Academy is a not for profit media production company that delivers a unique programme for young people between 14 – 23 years. They provide 'industry standard' media coverage of local, national, and international events. This has been extremely useful for the Pacific Islands where ONOC is still working with regional media organisations to strengthen sports reporting and journalism.
SOURCE: ONOC MEDIA/PACNEWS