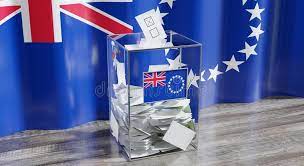 Ministry of Foreign Affairs and Immigration secretary Tepaeru Herrmann has welcomed the Pacific Islands Forum Electoral Observer Mission (EOM) to the Cook Islands.
The Mission comprising senior officials from the Governments of Fiji and the Solomon Islands, supported by staff of the Pacific Islands Forum Secretariat (PIFS) arrived into Rarotonga last week to observe the Cook Islands National Parliamentary Elections scheduled for Monday, 01 August (local time).
Head of delegation for the Mission to the Cook Islands is Deputy Secretary of the Ministry of Foreign Affairs of Fiji Esala Nayasi, accompanied by Solomon Islands High Commissioner to New Zealand, Eliam Tangirongo and supported by PIFS officials including PIFS Deputy Secretary General Dr. Filoman Manoni.
The EOM was established by PIF Leaders in 2000 under the Biketawa Declaration. The "Biketawa" was a high-level response by PIF Leaders to political instability within the region in the early 2000s and put forward a set of guiding principles and actions for Forum members to support good governance and democracy in general elections.
"At the heart of Biketawa is the principle of non-interference in the domestic affairs of other countries. That being said, the PIF EOM exercise offers an opportunity for independent observation of the Cook Islands electoral process – from registration, to voting, polling and counting by the PIF EOM," Herrmann said in a statement.
"As a Small Island State (SIS), it is crucial the Cook Islands ensure its good governance and democracy evolution keeps pace with the development needs of the Cook Islands and abreast of international good practice as relate to democracy and good governance."
The Observer team have met with senior officials from Police, the Electoral Office, Chamber of Commerce, Civil Society representatives and the Ministry of Finance and Economic Management (MFEM). Meetings yesterday were scheduled with leaders of the Cook Islands Party, Democratic Party, United Party and the Progressive Party.
The PIF EOM delegation will split on Monday with one group heading to Aitutaki to observe electoral processes in the Pa Enua, including the opening of polls, polling, closing and the counting of votes while one will remain in Rarotonga to observe Rarotonga polling booths.
"Amongst the considerations of government since the last general election, and referenced in the 2018 PIF EOM post mission report, was a standalone electoral office and utilisation of online platforms for registration and polling purposes," said Herrmann. "We therefore look forward to this PIF EOM completion report which will be provided to our Government post the mission.".
SOURCE: COOK ISLANDS NEWS/PACNEWS