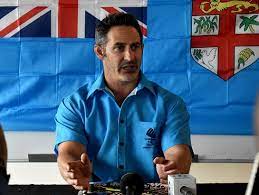 Fiji 7s Coach Ben Gollings has named six Olympic gold medalists in his final 13-man squad for this weekend's Commonwealth Games in Birmingham.
Jerry Tuwai, Waisea Nacuqu, Josua Vakurinabili, Sireli Maqala, Aminiasi Tuimaba and Semi Kunatani are the six Olympic gold medal winners in the team while Sevuloni Moceanacagi has also forced his way in the team after missing the 2016 and 2020 Olympic selection narrowly.
World 7s Series Captain Tevita Daugunu, Elia Canakaivata, Kaminieli Rasaku, Jeremaia Matana, Filipe Sauturaga and Vuiviawa Naduvalo complete the squad.
Paula Dranisinukula, Pilipo Bukayaro and Manueli Maisamoa have missed out on selection.
Fiji will play Zambia in it first match at 12.02am on Saturday before facing Canada at 8.32am, and then Wales at 12.02am on Sunday.
Meanwhile, Fijiana 7s Coach Saiasi Fuli has confirmed his final 12 players for the Commonwealth Games which kicks off this weekend in Birmingham.
The team has 8 players who won a bronze medal at the 2020 Tokyo Olympics.
They include Captain Rusila Nagasau, Vasiti Solikoviti, Raijeli Daveua, Lavena Cavuru, Viniana Riwai, Sesenieli Donu, Reapi Uluinasau and Ana Naimasi.
Verenaisi Bari who made her first appearance in the Langford 7s and former ACS sprinter Laisani Moceisawana who made her debut in the Oceania 7s in June are also in the squad together with Nadroga's Ivamere Nabura and Police speedster Vani Buleki.
Laisani Likuceva, Maria Rokotuisiga and Lavenia Tinai have failed to make the cut.
Fijiana faces Scotland in its first match at 8.22pm on Friday.
SOURCE: FIJI LIVE/PACNEWS