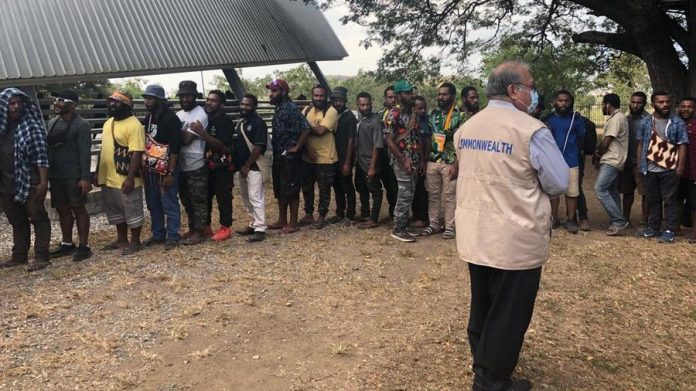 A Commonwealth team observing Papua New Guinea's election has expressed concern about the voting process.
Releasing its interim statement in Port Moresby, the Commonwealth Observer Group said that, in some cases, as many as half of those eligible to vote were reportedly not on the common roll (voter register).
In the interim statement, Chairperson of the Group, former President of Nauru, Baron Waqa, said:
"There was widespread public dissatisfaction with the accuracy of the common roll. We are concerned that this could have disenfranchised high numbers of eligible voters.
"All relevant stakeholders should collaborate in undertaking an urgent review of the 2022 election."
The Group, however, commended the Electoral Commission, polling staff, political parties, candidates, scrutineers, security personnel and others for their respective roles during the election, noting especially the determination and patience of people to exercise their right to vote, despite widespread delays in delivering the election.
The interim statement also acknowledged the considerable challenges faced by the Electoral Commission in organising the election, due to the COVID-19 pandemic.
Baron Waqa added: "However, as observers, it is our responsibility to identify challenges to the inclusiveness, credibility, and transparency of this election."
"We do this with the aim of supporting and strengthening the electoral process in Papua New Guinea."
The Group arrived in Papua New Guinea on 28 June, and observed preparations for the pre-poll, polling period and counting in many polling places across all four regions of the country.
The Group said that while it was deeply moved by the aspirations of the people for a better country, it condemned acts of violence by a minority, which went against the ambitions of the peaceful and law-abiding majority of citizens of Papua New Guinea.
The Group's final report will be submitted to the Commonwealth Secretary-General and subsequently made available to the Government of Papua New Guinea, political parties, the Electoral Commission and the public.
SOURCE: COMSEC/PACNEWS