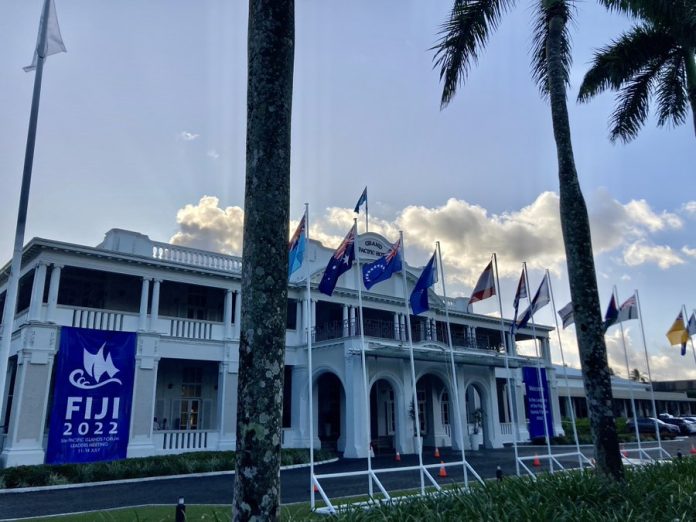 By Nic Maclellan
For the first time since 2019, presidents and prime ministers from around the region will gather face-to-face in Suva this week, to continue the 51st Pacific Islands Forum leaders meeting.
The centrepiece of the summit will be the adoption of the 2050 Strategy for a Blue Pacific Continent, a new framework to guide collective action on key regional priorities. The meeting will also focus on the implementation of the Suva Agreement, a political deal forged by Forum host Voreqe Bainimarama and other leaders to end the planned withdrawal of five Micronesian nations from the regional organisation. This deal has been dealt a blow by Kiribati's decision to withdraw from the Forum and the absence of the Presidents of Nauru and Marshall Islands from Suva this week.
From the largest Forum member country Australia, newly elected Prime Minister Anthony Albanese will arrive bearing important new pledges around climate, labour mobility and development assistance. But Australian concern over Chinese influence in the region – highlighted by the recent eight-country tour of Chinese Foreign Minister Wang Yi – will see the new Australian leader press Canberra's security agenda to neighbouring island nations.
To clear the decks and allow more time for extensive discussions, Forum leaders have decided to delay the annual Forum Partner Dialogue until later this year. Normally, delegations from 21 dialogue partners participate in a session of the annual summit: a mixed group of major players like the United States, China, France and Japan as well as smaller partners like Italy, Chile and Turkey. These annual visitors often seek bilateral discussions with island leaders and Forum Secretariat staff spend hours managing bouts of China/Taiwan and China/US jousting. To create space for island agendas, it seems wise to push off the formal dialogue until the dust has settled on the Forum's internal reconciliation.
Oh yes, then there's a few other minor items to discuss, like the climate emergency, preparations for COP27 in Egypt, the threat to the oceans, Covid-recovery, self-determination struggles in Melanesia and the regional impacts of the war in Europe.
Blue Pacific
A key focus for the 51st Pacific Islands Forum will be the 2050 Strategy for the Blue Pacific Continent. PIF Deputy Secretary General Dr. Filimon Manoni says, "the 2050 strategy will represent our long-term pathways to deepening regional cooperation, to achieve our shared ambitions and reflect our shared strategic interests as the Blue Pacific."
The Blue Pacific concept was first introduced at the 2017 Forum in Apia, Samoa, but at their last face-to-face meeting in Tuvalu, leaders called on the Forum Secretariat to develop a framework that could integrate regional strategies around climate, the oceans, demilitarisation and development. Secretariat staff have struggled over the last year to bring together diverse, often contested, perspectives on pathways for action, and will present the draft strategy for adoption.
This is not the first time that the regional organisation has adopted a visionary statement, only to see it thwarted by bureaucratic processes. The 2005 Pacific Plan for Strengthening Regional Integration and Cooperation, widely critiqued by civil society and dismissed by the 2013 Morauta Review, is but one example.
In 2013, as he condemned the Pacific Plan to the dustbin of history, Sir Mekere Morauta called for "more robust political debate and supporting a bigger, better, deeper process of regionalism. Forum members will need to reflect on how ready they are for deeper forms of integration, including difficult issues such as sharing sovereignty and the recognition of regional priorities that may not always equate to national priorities."
Given recent divisions within the Forum, and the priority given to national instead of regional agendas during the pandemic, this advice still seems relevant.
Micronesian deal
As host nation, Fiji had hoped to hold this face-to-face meeting some time ago. Extensive travel restrictions and border closures during the Covid pandemic, however, meant island leaders could only hold a one-day virtual summit on 6 August last year. Forum chair Voreqe Bainimarama had intended to continue the meeting in subsequent months, but there were a series of delays, from his own illness in January to the February decision by the five member states of the Micronesian Presidents' Summit (MPS) to delay their planned withdrawal until June.
For nearly two years, there has been discussion between the dissident MPS leaders and a Forum leaders' dialogue group, involving formal apology and reconciliation ceremonies and a series of closed-door discussions. Then there was the perfect opportunity for face-to-face dialogue to seal the deal in May, as the Cook Islands and Samoa Prime Ministers arrived in Suva for the opening of new high commissions. FSM President David Panuelo and Palau President Surangel Whipps Jr were flown to Fiji in an Australia aircraft to thrash out an agreement with Mark Brown, Fiame Naomi Mata'afa, Marshall Islands Minister, John Silk and the Forum chair.
In interviews with Islands Business after that meeting, Panuelo and Whipps described the key elements, which will see current PIF Secretary General Henry Puna complete his current three-year term, to be replaced in 2024 by a new Micronesian Secretary General. The position, extended to a five-year term, will then rotate through the three subregions, with two deputy Secretary Generals creating a leadership troika to maintain representation from across the region. The Forum will also create a new branch office in the northern Pacific, and the Office of the Pacific Oceans Commissioner (held by both Puna and his predecessor Dame Meg Taylor) will be hived off and based in Micronesia.
An agreement that includes all of the Forum's Micronesian members was ruled out after Kiribati confirmed it would be withdrawing from the Forum in a letter to Secretary General Puna this week. For the others, the real challenge is whether the wounds from recent divisions will soon heal and governments will hold to their "Pacific way" commitments. As new director general of the Melanesian Spearhead Group (MSG) Leonard Louma told Islands Business last month: "If we agree with each other how we are going to do things – written or unwritten – then we should be able to find it within ourselves to honour that. If we start to do things in a way with variance with what we think, that's when unnecessary hiccups come in the way of regionalism."
Changing leadership
Alongside Solomon Islands Prime Minister Manasseh Sogavare, current Forum chair Voreqe Bainimarama is the longest serving regional leader (although this includes a stint in the sin bin when Fiji was suspended the organisation for a number of years). There's a generational change underway and while many are experienced ministers, 11 of 18 Forum leaders only took the top job in the past three years: David W. Panuelo (May 2019); Lionel Aingimea (August 2019); Kausea Natano (September 2019); David Kabua (January 2020); Bob Loughman (April 2020); Dalton Tagelagi (June 2020); Mark Brown (October 2020); Surangel Whipps Jr. (January 2021); Fiame Naomi Mata'afa (May 2021); Louis Mapou (July 2021); Anthony Albanese (May 2022).
This year is also marked by some key elections, which will impact on regional geopolitics.
Papua New Guinea is currently holding a national poll, while Prime Minister Bainimarama must face electors later this year, hoping to see off a strong challenge from opposition politicians Sitiveni Rabuka and Biman Prasad. French President Emmanuel Macron is reeling from the loss of his absolute majority in the French legislative elections last month, affecting his regional agenda (in a stunning, unprecedented victory, candidates from the pro-independence Tavini Huira'atira party won all three seats allocated to French Polynesia in the French National Assembly, which President Edouard Fritch has described as a "catastrophe" as he prepares for local elections next year). Cook Islands is also in election mode, going to the polls on August 1.
Newly elected Australian leader Anthony Albanese will get a warm welcome in Suva. His recent victory over outgoing Prime Minister Scott Morrison has brought welcome changes in climate policy, after nine years of Coalition delay and disruption on climate action.
However, the Albanese Labor government will soon face questions after an initial honeymoon. Will the ALP's ongoing commitment to fossil fuel extraction and coal exports lead to future tensions, despite the recent upgrade of Australia's NDC pledge to reduce emissions (a 43% cut by 2030, compared to the Coalition's 26-28%)? Will Australian plans to purchase nuclear submarines under the AUKUS agreement clash with anti-nuclear sentiment in the islands, contribute to global proliferation and further integrate Canberra into the US containment strategy for China? Above all, will Canberra continue to talk "family" without following through on the most critical issues?
During his recent tour to Europe, Albanese met with President Macron in Paris, seeking to rebuild the France-Australia strategic partnership after the 2021 AUKUS announcement. But Australia's Melanesian neighbours are deeply angered by France's colonial administration in New Caledonia and have raised concern over the credibility of the December 2021 referendum on self-determination that was boycotted by the Kanak independence movement.
Ambassador Ratu Inoke Kubuabola of Fiji led a Forum Ministerial Mission to observe last year's referendum, together with PIF Secretary General Henry Puna and Samoa's High Commissioner to Fiji Ali'ioaiga Feturi Elisaia. Their report will be presented to this month's summit and the discussion will be interesting: New Caledonian President Louis Mapou will be the first pro-independence Kanak leader sitting in the retreat in the history of the organisation.
U.S-China geopolitics
Following the regional tour by Chinese Foreign Minister Wang Yi, the United States and its allies are ramping up regional engagement to try to stem further security agreements with Beijing. US Coordinator for Indo-Pacific Affairs, Kurt Campbell pledged that Washington would uphold and increase existing commitments to island nations, extend its diplomatic presence in the region, coordinate with allies and partners and protect islands' sovereignty. But island leaders have heard all this before, and many are concerned that President Biden's Democratic Party may lose its majority in Congress in this November's US midterm elections.
Funding for the Pentagon and the Pacific Deterrence Initiative will still flow under a Republican-controlled Congress. But will Joe Biden's pledge to double climate finance go the way of Barack Obama's $3 billion commitment to the Green Climate Fund, abandoned by Donald Trump? During a recent webinar, Fiji's UN Ambassador Satyendra Prasad pointedly said that the islands needed "greater predictability" and "Pacific people and their governments would welcome an enduring partnership with US that is there for the long-term."
On 24 June, the United States, United Kingdom, Australia, Japan and New Zealand launched "an inclusive, informal mechanism to support Pacific priorities more effectively and efficiently – the Partners in the Blue Pacific". It is the latest in a series of mechanisms created to build a stronger Western alliance in the face of Chinese diplomacy and investment in the region. Australia's new government will come to the Forum this month seeking to ensure that Canberra and not Beijing will drive the regional security agenda. Island leaders, however, will likely push back to highlight their common mantra of "friends to all, enemies to none."
The current Forum chair has made this clear throughout the year. In a public display of even-handed diplomacy, Prime Minister Bainimarama has hosted visits to Fiji by U.S. Secretary of State Tony Blinken, Australian Foreign Minister Penny Wong, Japan Foreign Minister Yoshimasa Hayashi and Chinese Foreign Minister Wang Yi. Fiji joined the new US Indo-Pacific Economic Framework (IPEF) in May, but also participated in last month's BRICS summit, hosted by China's Xi Jinping, to discuss South-South cooperation with the leaders of Brazil, Russia, India, China and South Africa.
The message is clear. While welcoming US outreach and Australia's vital role as the region's largest aid donor and market for labour mobility, many Forum Island leaders don't want to be forced to choose sides in the sharpening US-China strategic competition.
Changing the rules
This month's summit will highlight a fundamental tension in regional politics. Western allies repeatedly talk about the importance of the "rules-based order" in the Indo-Pacific region, but often underestimate the desire of many Pacific governments and communities to change those very rules.
Throughout the year, Pacific diplomats have been actively engaged on the Blue Pacific agenda: seeking to change the rules at the World Trade Organisation over fisheries subsidies and TRIPS waivers for Covid vaccines; lobbying to transform the UN Convention on the Law of the Sea through negotiations on biodiversity beyond national jurisdictions, and calling for new international law to account for the loss of atolls and reefs through sea level rise; debating the regulation of deep sea mining at the International Seabed Authority; and challenging extended nuclear deterrence, with Aotearoa New Zealand and nine Forum Island Countries ratifying the new Treaty on the Prohibition of Nuclear Weapons (TPNW). Their response to Russia's nuclear sabre rattling is not support for larger thermonuclear arsenals, but a nuclear ban treaty that seeks to provide assistance to the nuclear survivors who lived through 50 years of US, British and French nuclear testing in our region.
Above all, there is a climate security and the failure of industrialised nations to meet their obligations on climate finance, loss and damage, emissions reductions and more. Vanuatu is looking for Forum support as it seeks an advisory opinion from the International Court of Justice (ICJ) on countries' legal obligations to protect people from climate harm. Another key priority at PIF 2022 will be to build momentum toward a global pledging conference to raise US$1.5 billion for the new Pacific Resilience Facility, "to build Pacific resilience in the face of more frequent and severe disasters and ongoing climate change threats."
As Forum host Voreqe Bainimarama pointedly told last month's TPNW summit in Vienna, all of these agendas are interconnected.
"Nuclear weapons epitomise the same short-sightedness that created the climate crisis, worsened the pandemic and kept food from the hungry. Worse, their staggering expense cripples our response to these challenges," he said. "The nine nuclear weapons states are projected to spend more than US$100 billion every year to maintain their nuclear arsenals. Need I remind everyone, that this is the sum of finance that developed nations pledged – and then failed to deliver – to climate vulnerable nations by 2020.".
SOURCE: ISLANDS BUSINESS/PACNEWS