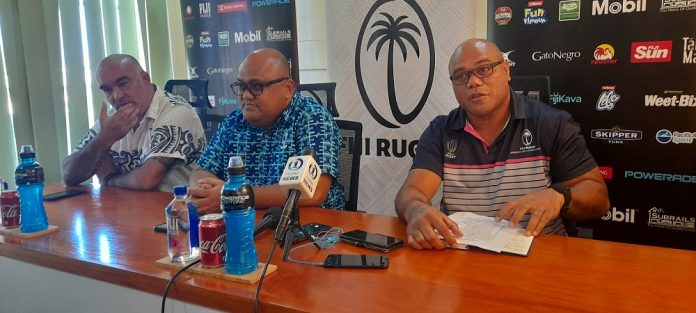 Fijiana XV's Head Coach Senirusi Seruvakula has named 18 new players in his 28-member squad travelling for the Oceania Championship to New Zealand next month.
Seruvakula has retained 10 players who were part of the Rooster Chicken Fijiana Drua which won the Super W Championship in Australia earlier this year.
Seruvakula said "We have a depth chart with a good pool of players so when we were away overseas these new players were still doing their training and playing in the ANZ Marama Championship.
They have been performing to their level best for their province in the ANZ Marama Championship and have also responded well to training.
Players such as prop Joma Rubuti, Vika Matarugu, Jade Coates, Bitila Tawake, Vitalina Naikore, Merevesi Ofakimalino, Rejieli Uluinayau, Merewalesi Rokouono, Rachel Laqeretabua will bring international experience into the squad.
Five overseas-based players including Asinate Serevi, Talei Kidd, Sulita Waisega, Emma Masi and Talei Wilson have also made the cut into the traveling squad.
Seruvakula said the other players who were part of the Super W Championship and have played the two test matches against Wallaroos and Japan have been rested.
"It's an ideal opportunity to give game time to these new set of players and actually gauge them when it comes to the test level.
These players will be supported by those who have already earned caps against the Wallaroos and Japan in May.
He added "Those left will continue to do their daily training at the nearest High-Performance Centers and will march into the camp for our final phase of preparation once we are back in Fiji after the Oceania Championship."
Seruvakula added that they are targeting to accomplish another aim by winning the Oceania Championship.
"We know every team will come prepared and will try and counter us but we have our plans set and will work towards it.
It's also a great opportunity to test ourselves in terms of the combinations, set pieces, and the depth in the squad ahead of the Rugby World Cup in October" said Seruvakula.
The Oceania Championship kicks on Saturday 09 July.
Fijiana XV's squad for Oceania Championship
Joma Rubuti – (Naitasiri Prop)
Mereoni Namositava – (Tailevu – Prop)
Miriama Kunagale – (Nadroga – Prop)
Vika Matarugu – (Suva – Hooker/Prop)
Litia Marama- (Northland –Hooker/Prop)
Seruwaia Qauqau – {Nadroga – Hooker}
Merevesi Ofakimalino – (Naitaisri – Locks)
Karavaki Lutumaibau – (Nadroga – Locks)
Jade Coates – (New Zealand – Locks)
Lowata Talilevu – (Nadroga 6/7)
Makereta Bulou (Suva – Number 8)
Asinate Serevi (USA – Locks)
Emma Masi (Australia – 7)
Fulori Nabura (Suva – 6/7)
Sulita Waisega (Netherlands – 6 &; 8)
Bitila Tawake (Naitasiri)
Rejieli Uluinayau (New Zealand –Scrumhalf)
Merewalesi Rokouono (Naitasiri – Flyhalf)
Vitalina Naikore (Macuata – Wing)
Wainikiti Vosadrau (Namosi – Centre)
Eavivi Senikarivi (Suva – Halfback)
Adita Milina (Nadrgoa – Wing)
Unaisi Tagabale (Nadroga – Wing)
Ilisapeci Delaiwau (Nadi – Wing)
Rachel Leqeretabua (England – Centre)
Talei Kidd (New Zealand – First Five)
Sisilia Namatasere (Serua – Fullback)
Talei Wilson (Australia – Fullback)
Non-travelling reserves
Bulou Vasuturaga (Suva – Prop)
Salote Vakaturi (Suva – Wing)
Fixtures for Oceania Championship:
9th July, 20222
1pm Samoa VS Tonga
3.30pmFijiana VS PNG
13th July, 2022
5pm Samoa VS PNG
7.30pm Fijiana VS Tonga
17th July, 2022
1pm`Tonga VS PNG
3.30pm Fijiana VS
SOURCE: FRU/PACNEWS