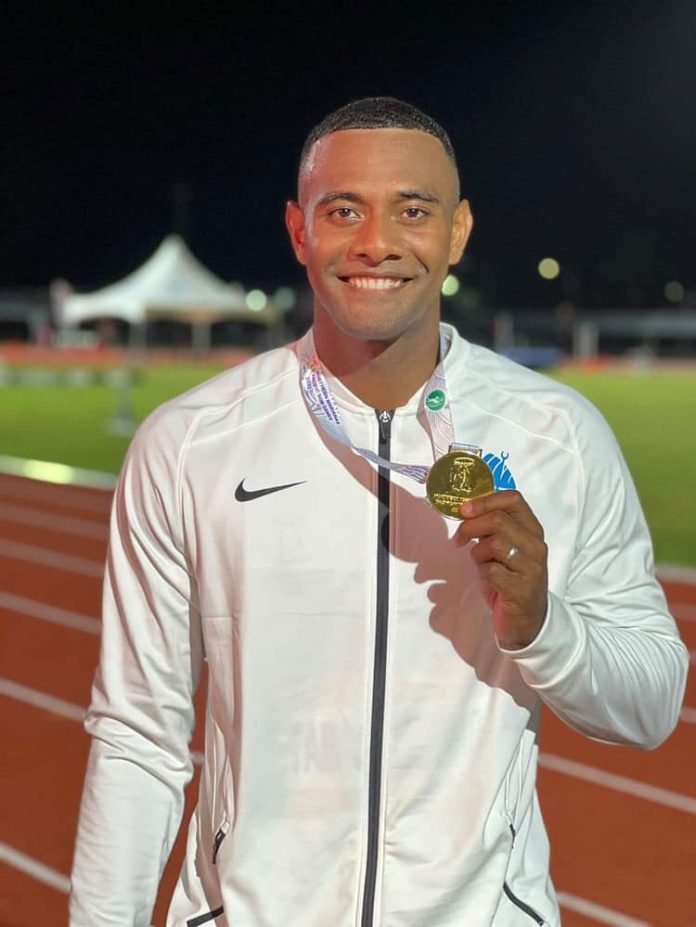 Banuve Tabakaucoro won the men's 100 metres title as the Pacific Mini Games continued in the Northern Mariana Islands.
The Fiji runner, known as the "Bau Bullet", came home to win the flagship race in 10.56sec.
In weightlifting, Australia won three overall titles.
Oceania's powerhouse nation does not send its strongest team to the regional event but is competing in weightlifting and athletics.
Darcy Kay won the women's 71 kilograms competition today with Beau Garrett adding to Australia's haul with men's 89kg gold.
The women's 76kg title also went to Australia, courtesy of Olivia Kelly.
Elsewhere, the men's 96kg gold went to Tonga's Uaealesi Funaki and the women's 81kg title was claimed by Samoa's Faustina Opeloge.
In the badminton hall, Tahiti won the mixed team gold medal as they ended the round robin stage with five victories from five.
New Caledonia claimed silver and Wallis and Futuna the bronze.
The New Caledonians tasted gold in the triathlon mixed relay as they came home in front of Tahiti and Fiji respectively.
Tahiti's Benjamin Zorgnotti won the men's aquathlon, consisting of a run-swim-run, while the women's event went to Guam's Manami Iijima-Martin.
The Pacific Mini Games are due to continue until 25 June.
SOURCE: INSIDE THE GAMES/PACNEWS