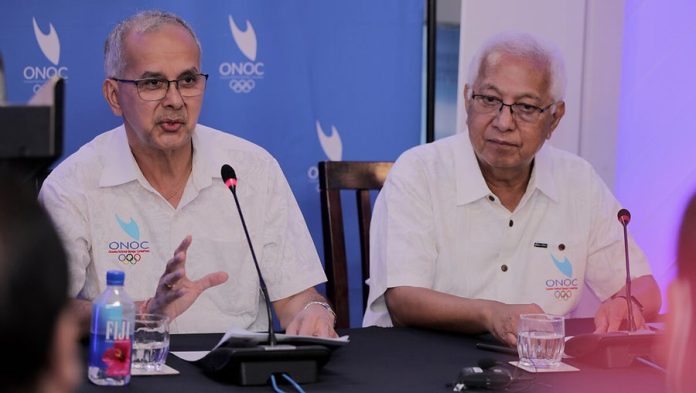 A new generation of young aspiring athletes in the Pacific Islands can now look forward to new innovative opportunities to guide them to winning medals at the Olympic Games.
The Oceania National Olympic Committees (ONOC) President Robin Mitchell announced the start of an ambitious 10-Year roadmap titled 'Creating a Home Games Advantage for the Pacific Islands 2022 – 2032' visioned to deliver long-term athlete and entourage development toward the BRISBANE 2032 Summer Games, with a focus on island countries.
Making the formal announcement exactly ten years to the date of the opening of BRISBANE 2032, President Mitchell said, 'ONOC is seeking to design and resource a targeted long-term strategy with world-class leadership and a holistic high-performance environment to ensure optimum success for the Pacific at BRISBANE 2032'.
Mitchell said, 'Today's official announcement of the programme provides a call to action that we need to seize the momentum as if 2032 is now.
'The impetus is for us to promptly organise ourselves and produce the best results ever, by the Pacific Islands, New Zealand and indeed Australia at our very own Home Games'.
President Mitchell stated the ten-year journey would have a phased approach with reviews of milestones leveraging the PARIS 2024 Olympic Games, the VICTORIA 2026 Commonwealth Games, and the LOS ANGELES 2028 Olympic Games before BRISBANE 2032.
Mitchell said, 'In the two-year period leading up to the PARIS 2024 Games, ONOC will be carrying out an audit on the resources, facilities, and the specific needs in each Pacific Island National Olympic Committee.
'It is important that we make full use of Olympic Solidarity funding and other identified resources in-country to ensure adequate preparation of our athletes and their supporting entourage'.
This approach comes in the wake of commitments by island-based National Olympic Committees to make use of all Olympic Solidarity opportunities for athletes, national federations, and NOCs at the ONOC XLII Annual General Assembly in May this year.
These are existing opportunities which will be harnessed alongside other new partnerships and resources which will be mobilised as part of the ten-year strategy to BRISBANE 2032.
President Mitchell acknowledged partners ONOC is working with to date. These include the Australian Olympic Committee (AOC), the Oceania Paralympic Committee (OPC), Paralympics Australia, Organisation of Sports Federations of Oceania (OSFO), Commonwealth Games Federation (CGF Oceania), Commonwealth Games Australia, Pacific Games Council (PGC), Oceania Australia Foundation, National Sports Federations (NSFs) and National Paralympic Committees (NPCs).
In an inspirational reflection tinged with practicality, Atma Maharaj the ONOC Programme Lead for the BRISBANE 2032 Programme shared past Pacific islands performances at Olympic Games with a suite of athlete and team case studies to demonstrate islands' potential.
Maharaj cited the inaugural Pacific Island win of an Olympic silver medal by Tongan boxer Paea Wolfgramm at the ATLANTA 1996 Summer Games, the 2008 win of a second silver medal by Samoan woman weightlifter Ele Opeloge in BEIJING 2008, and Paralympic medal wins by Papua New Guinea's Francis Kompaon (Silver medal for 100m in athletics T46 Class in BEIJING 2008), and Fiji's Iliesa Delana (Gold medal in Men's High Jump F42 Class) in LONDON 2012.
These have been complemented by Fiji Men's Rugby Sevens wins of back-to-back gold medals at RIO 2016 and TOKYO 2020 plus Fiji Women's Rugby Sevens win of a bronze medal at TOKYO 2020.
Maharaj said, 'These inspiring performances demonstrate that the Pacific islands are capable of being world-beaters on any day.
'At the ONOC's Annual General Assembly in May 2022, ONOC's sports stakeholders unanimously agreed to a set of challenging performance targets focused around 'Pathways and Performance' as its primary objective.
'This ambitious yet practical aspirational goal is to produce a 300% to 500% improvement on the Pacific islands previous Olympics and Paralympics Games performances at BRISBANE 2032'.
The breakdown comprises a vision of 'no less than 4 gold medals, 16 Top 8 finishes, with 50+ athletes and 8+ sporting teams qualifying on merit for BRISBANE 2032.
According to Maharaj, achieving these would mean tapping into the true potential of Pacific sports and establishing a platform for future improved performances for future Games.
Maharaj said, 'BRISBANE 2032 is an ideal catalyst to proactively create a revolution and a giant leap forward, to build capacity, strengthen relationships, deliver performance outcomes, generate sustainable and positive change throughout the region, with a legacy well beyond 2032.
'BRISBANE 2032 must go beyond inspiration and must be remembered as the Games that gives the Pacific Islands a new way of thinking, a new level of outcomes and new levels of performance that have never been seen before but will be see again post-2032'.
The roadmap focuses on athletes and the ecosystem of sports professionals needed to develop a generation of high-performance sportspeople to carry the Pacific Islands forward to a new era.
SOURCE: ONOC MEDIA/PACNEWS