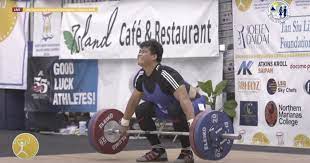 CNMI weightlifters Angel San Nicolas and Leonardo Apelo won a total of two gold and four silver medals in their respective weight classes in the 2022 Pacific Mini Games on Wednesday.
In the men's 96kg event, San Nicolas collected two gold medals and one silver.
San Nicolas started with 115kg in his first attempt but was bested by Vanuatu's Thomas Wilbur whose second attempt of 118kg gave him the lead in the snatch portion of the event.
San Nicolas regained the lead with a successful 119kg lift but he was once again overtaken by Wilbur whose third attempt was 120kg.
San Nicolas tried to lift 121kg, but failed to control the weight, handing the gold to Wilbur while settling for the silver medal.
In the clean & jerk segment, however, San Nicolas was supreme. He recorded three consecutive lifts — 150kg, 155kg and 160kg — to secure his first gold medal.
His second half performance resulted in another gold medal for total weight at 279kg.
Wilbur, for his part, took home two silver medals for his two lifts of 140kg and 151kg and total weight of 271kg.
Leonardo Apelo of the CNMI displayed his strength in the 89kg weight class where he earned three silver medals and another silver medal in the Oceania Weightlifting Championships.
Apelo started the snatch portion of the event with a successful lift of 120kg.
But Breau Garrett from Australia upped the ante with a successful 123kg lift in his second attempt. Apelo then equalised with a lift of 124kg.
However, the Australian went all out in his third lift, 130kg, to secure the gold medal.
Apelo attempted 131kg but failed to control the lift, and had to settle for the silver medal.
In the clean & jerk portion, Garrett was likewise dominant with three successful lifts — 161kg, 167kg and 172kg — to secure his second gold medal.
Apelo recorded two lifts at 150kg and 157kg but was unsuccessful with 168kg. It another silver-medal performance nonetheless.
For the total weight, Garrett with 302kg bagged his third gold medal while Apelo with 281kg took the silver.
For his part, Tahiti's Matahi Tahiaipuoho earned three bronze medals with a best snatch of 122kg, clean & jerk of 151kg, and total weight of 273kg.
Apelo said he was satisfied with his performance overall. "I'm proud of it; I worked hard for it. I'm dedicating this to my wife and kids," he added.
When asked why he went beyond in his final attempt in the clean & jerk portion, he said, "I wanted to put on a show. But that was more than what I usually lifted in training."
Apelo has been lifting for 10 years but the 2022 Pacific Mini Games are his first international competition.
SOURCE: MARIANAS VARIETY/PACNEWS