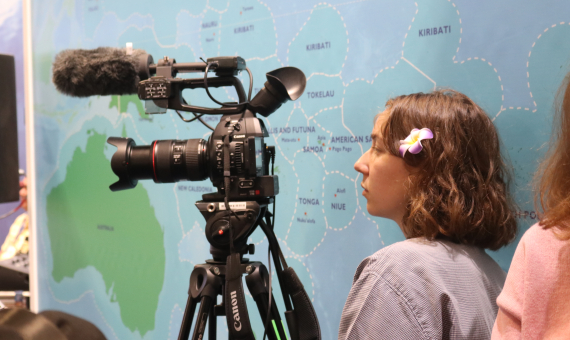 The Secretariat of the Pacific Regional Environment Programme (SPREP), in partnership with Aotearoa New Zealand and key regional media partners — the Pacific Islands News Association (PINA), Internews Earth Journalism Network, and the Pacific Environment Journalists Network (PEJN) — are shining a spotlight on stories of Pacific resilience in the face of the escalating climate crisis, with the announcement of the new 2022 Vision Pasifika Media Awards
Launched virtually on 16 June 2022 to coincide with SPREP's 29th birthday, the 2022 Vision Pasifika Media Awards recognises the role of Pacific media in amplifying Pacific voices on climate change. The Awards invite entries from Pacific media workers on published or broadcast stories that have highlighted the region's climate change challenges and the way Pacific people have addressed these for survival. There are five categories: Television News, Radio production, Online content, Print media, and Tertiary-level journalism students.
"SPREP recognises the critical role of media in sharing public information, education, and influencing behaviour for the better. Through these awards, we are excited to offer the opportunity to honour the hard work by our media colleagues in protecting our people and the environment," SPREP's Acting Communications and Outreach Adviser, Nanette Woonton, said.
"In the Pacific region, we are living amidst multiple crises. COVID-19 has changed the world as we know it and it remains unpredictable as the situation continues to evolve.
"The 2022 Vision Pasifika Media Awards directs our attention to a crisis that is happening right under our noses, with dire consequences on our communities. We cannot be silent and working with the media is a key part of our fight for survival."
Manager of PINA, Makereta Komai, reiterated that Pacific media workers are crucial in sharing climate change experiences and how Pacific countries are dealing with them.
"While nobody likes dealing with a crisis, for the news media, it is not only their job to report on crises, quite often some of the best stories are recorded, filmed and scripted during these catastrophic events," she said.
"Our Pacific environment is in the throes of a climate crisis. Contributing to less than one percent of the world's total greenhouse gases, our Pacific islands are on the frontline and amongst the most vulnerable to the impacts of extreme weather events."
The Chairman of PEJN, Iliesa Tora, reminded that climate change is the single most challenging threat for Pasifika people.
"For this reason, it is critical for the media in the region to tell our stories and what we face every day. Competitions like this help raise journalism standards and build capacity among journalists," he said.
Pacific Partnership Coordinator Internews' Earth Journalism Network, Donna Hoerder, said they are excited to be part of the initiative because the fight against climate change is something that requires a collective effort from global partners, as well as the entire Pacific community.
"Pacific people don't just see climate change happen — they live and breathe it," she said.
"Their connection to the sea and land is not only for survival, but part of their culture and tradition. The media can inform local communities and policy makers of climate-related issues and are a crucial partner in climate change work. These awards will be a recognition of their hard work and we look forward to the many interesting stories that are submitted."
Media workers are encouraged to submit stories on how their nations, or communities, are dealing with issues like:
*the need for a 1.5-degree Celsius world for Pacific survival (mitigation, ambition)
*climate change impacts in our ocean (ocean acidification, ocean sink, sea level rise, marine heat waves, coral reefs)
*natural solutions for Pacific resilience (ecosystem-based adaptation for Pacific resilience, agricultural solutions)
*our climate change reality (personal experiences, extreme weather events, coastal erosion, adaptation, how we live with climate change impacts)
*climate finance
*climate solutions and/or climate resilience.
Category winners will be awarded USD$1,000. There will also be additional prizes. Submissions close 4pm, 10 August 2022, Samoa time.
The Vision Pasifika Media Award 2022 is supported by the Government of New Zealand. It is the culmination of a partnership between Aotearoa New Zealand, the Secretariat of the Pacific Regional Environment Programme, Pacific Islands News Association, Internews Earth Journalism Network, and the Pacific Environment Journalists Network.
SOURCE: SPREP/PACNEWS