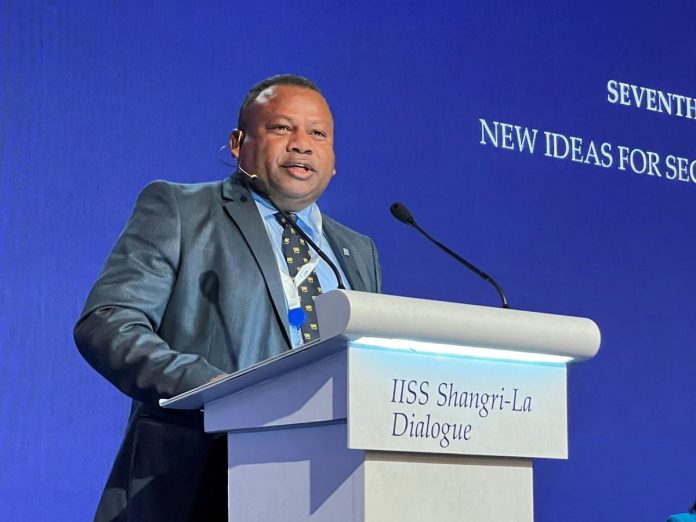 Fiji will make the most of all its relationships amid growing ties with China and other countries around the world.
Minister for Defence, National Security, and Policing Inia Seruiratu highlighted this while responding to questions raised during the Shangri-La Dialogue in Singapore.
The question was centred on the recent visit by Chinese Foreign Minister Wang Yi and the Fijian government's stance on China's growing influence in the Pacific region.
Seruiratu reiterated that Fiji values all the relationships it shares with developed countries.
He said this was because they assist in developing the country's capacity to address issues of interest.
"We are vigilant and we are smartly looking at all the opportunities and how we can make the most of the relationships we have."
Seruiratu said that regional security could not be achieved without domestic stability and China is a key development partner.
The minister also acknowledged the United States government and the two neighbouring countries for being a driver of development in the region.
"We are grateful to the Americans for what they did especially after World War II, but things have changed, and I have talked about adapting."
Seruiratu said Fiji's priority is ensuring that world powers include measures to fight climate change in their projects and policies as it threatens the existence and wellbeing of the Pacific people.
Meanwhile, British deputy High Commissioner to Fiji Paul Welsh says the United Kingdom has increased its engagement in the Pacific in the past four to five years.
In response to queries from The Fiji Times on the increased Chinese presence in the region, and recent visits by Foreign Ministers from China, Australia and New Zealand, he said UK was getting more involved than it had been in the past 10 to 15 years.
"We recognise every country's sovereign right to have relations with whomever they want to have relations with," Welsh said.
"It's not our business who Pacific island nations choose to have relations with as we're all entitled to do that.
"But of course we're interested in the Pacific as well, there is heightened interest and I think that's recognition of the importance of the Pacific ­— whether it is defence relationships or tackling climate change.
"If you look at where we were only four years ago, we had three British diplomats here in Fiji and there are now 11 of us.
"So you can see just from that we have increased our commitment and interest in the Pacific, we've re-joined the SPC after a gap of many years.
"You've seen a Royal Navy ship here recently; the first visit since 1997 and we've reopened our high commissions in Tonga, Vanuatu, Samoa, and the Solomon Islands so we are back in the Pacific in a big way.
SOURCE: FBC NEWS/FIJI TIMES/PACNEWS