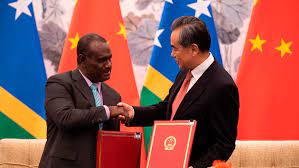 Solomon Islands' Opposition Leader claims he warned Australian officials last year that China was negotiating a military pact which could see a base established on the strategically located Pacific nation.
News of the draft agreement is causing growing concern across the region and one analyst is warning Beijing could soon also gain a foothold in Papua New Guinea.
In an interview with the ABC, Matthew Wale — who leads the Democratic Party — said he warned Australian officials as early as August that China would likely try to establish a military presence in Solomon Islands.
"I have intimated as much to the Australian High Commissioner and officials that this was in the offing, even as far back as last year — all the indications were there and the Australian government did nothing about it — so I'm extremely disappointed in the Australian government," he said.
In November, Australia deployed troops and police to Honiara to help quell days of anti-government riots, but DFAT officials were alarmed when an offer of law enforcement help from China was later also accepted.
Now Wale is suggesting Australia moves to strengthen its existing bilateral security agreement with Solomon Islands to help kill off China's push for a security pact.
"We've benefited from that treaty with Australia, what does that treaty not able to give us, maybe that should be a subject of discussions with Australia, New Zealand as opposed to going into a new treaty altogether with China."
A federal government spokesperson has told the ABC "Australian officials regularly engage with Solomon Island stakeholders on issues of interest to Australia and our region".
"We continue to engage in an open and transparent manner at all levels with the Solomon Islands Government on its security arrangements," the spokesperson added.
Liberal MP Warren Entsch, whose far north Queensland electorate of Leichhardt sits less than two thousand kilometres away from Solomon Islands, is remaining optimistic the China agreement will not be signed.
"There's a lot of things happening there that we continue to work with them, this has sort of come out of the blue," he said.
"I am frequently seeing Chinese announcements, but at the end of the day I'm yet to see anything come to fruition."
Meanwhile, Solomon Islands is working to broaden its security and development cooperation with more countries.
A government statement says the approach taken by the country is in line with its 2020 National Security Strategy and the Country's Foreign Policy of "Friends to all, enemies to none."
The Government recognise the state's responsibility of protecting its people from fear and to live in dignity. Broadening partnerships is needed to improve the quality of lives of our people and address soft and hard security threats facing the country.
The government is expanding the country's security arrangement with more countries. The proposed security arrangements have a development dimension to it, covering humanitarian needs of the country besides maintaining the rule of law.
Solomon Islands values its 2017 Security Agreement with Australia, it is the country's first Security Agreement. In diversifying the country's security partnership including with China, the Government is working to sign off and implement a number of development frameworks with China to further create a secure and safe environment for local and foreign investments including Civil Aviation Services Agreement with China, Expanding Trade under Non Reciprocal Trading arrangement with China and sending more students to China for tertiary education in addition to those that left our shores this week.
Solomon Islands continue to preserve its Security Agreement with Australia as it develops and deepen its relations with all partners including with China. Solomon Islands recognise and appreciate the presence of Australia, Fiji and New Zealand security personnel covered under the Solomon Islands – Australia Treaty and a bilateral arrangement with Papua New Guinea which is being finalized. We thank the four countries for their presence in support to the Royal Solomon Islands Police Force (RSIPF) and the people of Solomon Islands.
Solomon Islands also applaud all development support and assistance from all partners including China, Australia, New Zealand, Japan, United States, and Indonesia amongst other others.
Against the backdrop of Solomon Islands wide range of bilateral Agreements with Papua New Guinea, Solomon Islands is also looking at establishing bilateral security arrangement with neighbouring Fiji.
Fiji has a shared history of service with Solomon Islands under various arrangement including in recent past under the Commonwealth, RAMSI and now Solomon Islands Assistance Force (SIAF). Solomon Islands hope to see a sub-regional arrangement in place to respond to any form of warm or hot threats facing the sub region.
Solomon Islands is working hard to keep building and strengthening the capability and the capacity of the RSIPF. Solomon Islands welcomes necessary trainings and equipment offered by Solomon Islands two major partners Australia and China. All trainings received compliments each other and has a single goal to equipping and enhancing the capability and capacity of the RSIPF. We acknowledge with appreciation the support of the two partner countries.
The country is located in a global hotspot where the impact of climate change is three times the global average. It is still going through its nation building process and has placed much focused on improving the quality of lives of our people, indirectly addressing and overcoming stresses of a diverse society to achieve social cohesion.
More development cooperation is being sought within and externally to ensure the country is put back on track especially during this difficult time with the impact of COVID-19 on people's lives, building the economy including damages caused by the recent riots and looting and the population's wellbeing.
SOURCE: ABC/SOLOMON TIMES ONLINE/PACNEWS