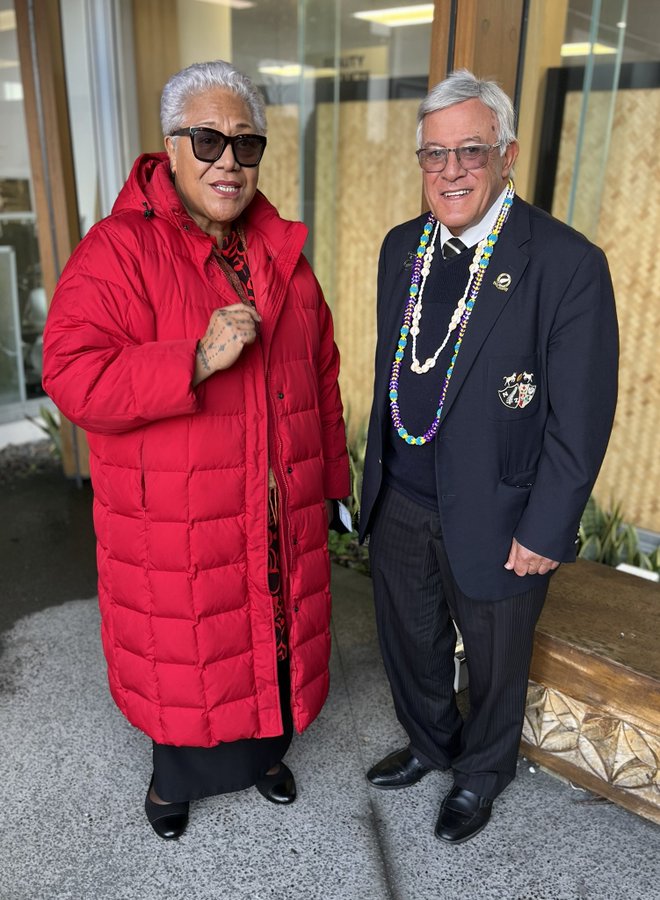 Samoan Prime Minister Fiame Naomi Mata'afa has arrived in New Zealand ahead of her first official bilateral overseas visit since taking office, with China and regional security high on the agenda.
Sworn in amid a constitutional crisis, the island nation's first female prime minister made headlines around the world last year when she was locked out of parliament, with the former government refusing to relinquish power.
"Everything was resting on the judiciary. Thank God they held," she told 1News.
After a year in the role, Mata'afa is now looking to cement the country's ties with New Zealand.
It comes off the back of a visit to Fiji, where she helped to stitch together a deal stopping small island nations from walking away from the Pacific Islands Forum at a time when China has made an aggressive bid for influence.
"The Pacific has now become such a contested area again and it makes it even more critical for us to be united as a region," she said.
While the world leader is a staunch supporter of discussing security as a region, Mata'afa had a pointed message for larger countries wanting a say.
"This whole fuss about China and the Solomons signing up but Australia, they have the Quad arrangement
"When is it time for the Pacific to be included in these so-called security issues and when do, they pass over our heads?"
While Samoa, like other Pacific countries, counts China as an important development partner, it remains cautious.
"t's really about mutual interest and if you are asking about the line, it's when they push that line to push their interests versus our interests."
Mata'afa will meet with Prime Minister Jacinda Ardern on Tuesday.
The Samoan leader has also encouraged young Pasifika women in New Zealand to create their own platforms to be heard.
She was a guest of the Auckland University of Technology (AUT) on Monday, where she shared her insights into Samoa, leadership, the Pacific and the world in a talanoa session with the AUT Assistant Vice-Chancellor (Pacific Advancement and South Campus), Walter Fraser.
When the floor was opened to questions from the audience at the end of the talanoa session, Manaui Ash-Faulalo asked the Prime Minister what advice she would give to young Pasifika women who feel they are not being heard.
Mata'afa in response urged Pasifika young women to create their own platforms.
"You have to find platforms. It is essentially about where you engage, who with and how you engage," she said.
"Create your own platform or have a look at the platform you are not able to get on and see what the blocks are. You have to understand why.
"I suppose you have to find a bit of courage and be respectful.
"You are a well brought up Samoan girl. It is amazing where a smile and well respectful attitude will get you."
Speaking of her experience asking the Samoan Prime Minister for advice, Ash-Faulalo told the Samoa Observer that her brief interaction with Mata'afa was a "proud and humbling moment".
"It was a very proud and humbling moment for me as I was the first out of six representatives to ask a question to our Prime Minister.
"I'm glad that I grew up in Samoa before I migrated to New Zealand because one thing that I was taught from my great-grandma, my grandma and mum is that, 'E iloa lava le tama Samoa ma le teine Samoa I lana tū, savali ma lana tautala." (A Samoan boy or girl is known by how she stands, walks and speaks)
AUT academic Associate Prof. Albert Refiti also asked Mata'afa about the concept of "va" and what it meant to the Prime Minister.
"In the palagi context people talk about respect having to be earned, the Samoan context is that for us it is a given, you can only lose respect," Mata'afa said.
"The expectation is there that with the idea of va, you begin with respect, that is automatic."
The Associate Professor later told Samoa Observer that he was proud to be part of the discussions with Samoa's first female Prime Minister.
"I am a very proud son of Fasito'outa to be part of the hosting party for Fiamē Mata'afa, a lot to celebrate for us as she chose us here at AUT to come to more than the other universities," he said.
Asked what he took away from the event, the academic said learning more about the Prime Minister was his main takeaway from the event, especially in light of the fact that she has a large following among the Samoan diaspora.
"The main takeaway is that the new Samoan Prime Minister has a massive fan base in the diaspora, especially here in Auckland.
"She speaks the diaspora Samoan language, a very logical and honest language about how to lead, almost like she is returning to recover some of the old values that were part of the fa'atamāli'i (respectful) world.
"A long way from pūlega (governance) style of the last Samoan prime minister."
The Associate Professor also made reference to her response to his question about the va and it meant for him.
"She responded to my question about our fascination here in the diaspora with vā really well, she understands how this type of research away from the homeland have the consequence, in that back home they can remeasure some of what they're doing especially our relationship with our natural environment because of our rethinking of what vā is."
Describing Mata'afa's leadership style following her presentation at the AUT talanoa session, the academic said her style as a Moana leader is different and steeped in the "old Pacific way".
"It's also interesting to have what I would call a cosmopolitan Moana leader, a new thing and quite different from the old 'Pacific Way' type of leader that has been the template to measure leaders in the Pacific since the 60's and 70's," he told the Samoa Observer.
"I believe that is of momentous historical significance, especially if you take into account that her father set in place the beginning of the new Pacific Way leadership style back in the 1960's [and] she begins where that old way finishes.
"As a cultural historian, the future looks very different, watch the new vā," he said.
SOURCE: TVNZ/SAMOA OBSERVER/PACNEWS