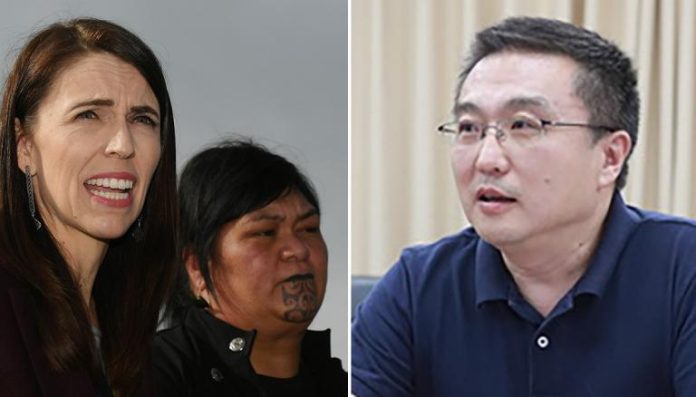 Despite escalating tensions in the Pacific, China's Ambassador to New Zealand says its relationship with New Zealand is going well.
Chinese Ambassador Wang Xiaolong told Newshub both countries prided themselves on having independent foreign policies.
"We support New Zealand continuing doing that and we have an independent foreign policy as well so that's what we'll continue to do.
"But I think we have a very strong partnership with New Zealand, although we have differences, but I think we can manage them well in a constructive way."
He refused to answer when asked about China's intentions in the Pacific.
Wang was at Parliament on Wednesday to meet with Opposition leader Christopher Luxon, having met with Foreign Affairs Minister Nania Mahuta last week.
Mahuta said discussions with her counterparts in China had been "fairly frank".
"We've identified that while we have a maturing relationship there are some challenge points to the nature of our relationship."
In a readout of the meeting, Wang said the countries should "manage our differences constructively through dialogues and consultations".
And that they should do that "on the basis of mutual respect, building up the common interests and setting aside differences, and non-interference in each other's internal affairs".
Wang said he "briefly touched on" Foreign Minister Wang Yi's tour of the South Pacific – during which he signed multiple bilateral agreements with almost a dozen Pacific Island nations.
Wang, the Ambassador, said China maintains "long-standing friendly and cooperative relations with island developing countries in the South Pacific" and had provided assistance and support for these countries "to the best of its ability".
"The focus and purpose of the cooperation is to achieve common development.
"During the visit, China reached broad consensus with South Pacific island countries and achieved fruitful results."
Mahuta has come under pressure to visit Pacific partners since Yi's tour.
She is planning a visit to a number of Pacific Islands when their borders opened but implied it would unlikely be like China's "unusual step to do eight countries all at once".
"I think the way we undertake our visits respects the pacific."
Mahuta said she wanted to "spend some really valuable time discussing issues that are important to them, like climate change, economic resilience and things like that.
SOURCE: NEWSHUB/PACNEWS