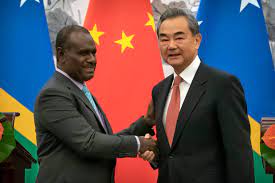 U. S Senior State Department officials were accused on Thursday of incompetence over China's ambitions in the Indo-Pacific, with the United States and Australia blindsided by Beijing's security pact with the Solomon Islands.
Republicans grilled U.S Assistant Secretary of State Donald Lu and his deputies during a Congressional hearing, saying the Biden administration's response to China's growing influence in the region was embarrassing.
China's foreign minister toured the Pacific Islands earlier this month seeking to secure a sweeping trade and security pact with 10 nations, following the recent signing of the agreement with the Solomons.
Australia's Foreign Minister Penny Wong was forced on her own hastily organised visit to the region to try to convince Pacific Island nations not to be seduced by China's proposal. Australia and its allies are worried any such agreement will allow Beijing to establish a military presence throughout the region.
The United States is now scrambling to reopen its embassy in the Solomon Islands, as well as set up a new one in the Maldives, in the Indian Ocean.
"It seems a little late to be [opening an embassy]. [China] seems to be eating our lunch in the Solomon Islands. It's an embarrassment in many ways," Steve Chabot, the House Foreign Affairs Committee's ranking member, told the hearing.
Fellow Republican, Congressman Andy Barr, took aim at Lu and his deputy, Camille Dawson, demanding to know why both the U.S and Australian governments had been caught aware of the Solomons deal.
"The secret security deal that the CCP inked with the Solomon Islands is very troubling. Why were we and Australia not able to operate a better deal that builds our relationship with the Solomon Islands? The lack of awareness is, I think, a lack of commitment to the Pacific Islands."
In response, Dawson said the United States was now working hard in the region.
"We have announced we are opening the embassy in the Solomon Islands, and we are working to do that on as rapid a timeline as possible. We are expanding the number of diplomats we have on the ground in Pacific Island countries," Dawson said.
Dawson hinted that the State Department would likely ask for an increase in funding to accommodate these initiatives.
"If we look to the Indo-Pacific strategy itself, there's a 10-point action plan and a number of items there we would look for enhanced funding as we look towards the FY 24 budget. In particular, there is reference to enhanced support for the Pacific Islands specifically," she said.
The current financial year 2023 request includes funding for 51 additional state department positions, 14 of which are public diplomacy positions.
When asked what the biggest threat to the U.S and its allies in the Indo-Pacific was, both Dawson, Assistant Secretary Lu and another of his deputies all said China.
SOURCE: AFR/PACNEWS