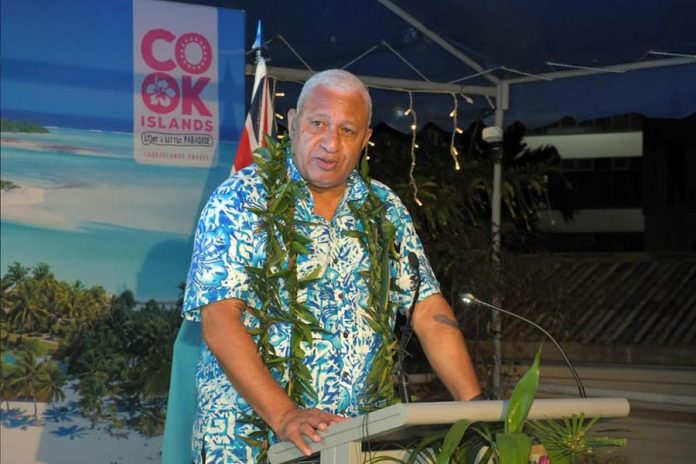 The establishment of Cook Islands High Commission in Suva, symbolises a landmark achievement in the 24 years of diplomatic relations between Fiji and the Cook Islands.
The first ever diplomatic mission of Cook Islands in Fiji, was officially opened Monday by the Prime Minister, Voreqe Bainimarama and his counterpart, Cook Islands Prime Minister Mark Brown.
Speaking at the occasion, Prime Minister Bainimarama formally welcomed Prime Minister Brown on his first official visit and congratulated him on the establishment of the Cook Islands High Commission in Fiji.
Prime Minister Bainimarama said that our regional relationships, such as that between Fiji and the Cook Islands, matter for every Fijian.
"Fijians and Cook Islanders know what it means to live with threat of the rising sea. We are sea-faring people and we will go to any lengths to protect our ocean for coming generations."
The Prime Minister said as Pacific family, we know we share more than challenges – we share a future and that is why we can work together in earnest to find solutions.
"Fiji and the Cook Islands' 24-year-old partnership is quite young by most standards. To me, that says the best is yet to come. This opening of your High Commission in Fiji is a testament to that. It is quite literally a solid foundation on which we can build. And I'm grateful and excited for what it signifies.
"You're in very good company here in Suva. Increasingly, our capital has become a community that includes all major international institutions. Fiji is the Pacific hub of trade, travel, telecommunications, and finance, and Suva is the one-stop shop for all matters multilateral. In one trip to one city, our region's leaders can make connections and coordinate engagement with each other and the world," Prime Minister Bainimarama said.
He further stated that, "a more connected Pacific is a more secure Pacific, and as a major producer of food and manufactured goods, Fiji is ready to play a much larger role to support regional nutrition security, shipping, trade, and human capital.
"There are already around 800 Fijians employed in Cook Island's private and public sector who contribute significantly to both our economies. Prime Minister Brown, when our borders were closed during the pandemic, neither of us sat back and wished for the best.
"We pushed hard to re-open our region and ensure that any regional travel bubble reached further than the Tasman Sea. Eventually, we succeeded, and thousands of our people are back in jobs they love because of it. I'm confident our pandemic recovery will create more opportunities that our nations can and should seize together."
The Prime Minister said the establishment of the Cook Islands High Commission signifies a victory for unity in the Pacific.
"But we have much larger mission to unite our region ahead of us. If we can bridge our most recent differences in keeping with our Pacific way, I am confident we will be a stronger family for it. And I appreciate the Cook Islands' commitment to keeping our Pacific family together," Prime Minister Bainimarama said.
In his remarks, Prime Minister of the Cook Islands Mark Brown commended Prime Minister Bainimarama for the support rendered towards the establishment of the Cook Islands High Commission in Fiji, and he also acknowledged the Fijian Government for the kind hospitality accorded to him during his visit to Fiji.
He said Fiji is the regional hub for commerce, trade, education, diplomacy and home to many regional and international multilateral organisations.
"I am confident the close cooperation over many years between our officials on the bilateral and regional matters will ensure we deliver critical benefits to support our respective recovery efforts in the months ahead. Be assured our opening of this mission, in the aftermath of the economic and financial upheaval caused by COVID-19 is a testament to the potential Fiji offers and our determination to expand cooperation across the full spectrum of our shared areas of interest in the months ahead," he said.
SOURCE: FIJI GOVT/PACNEWS