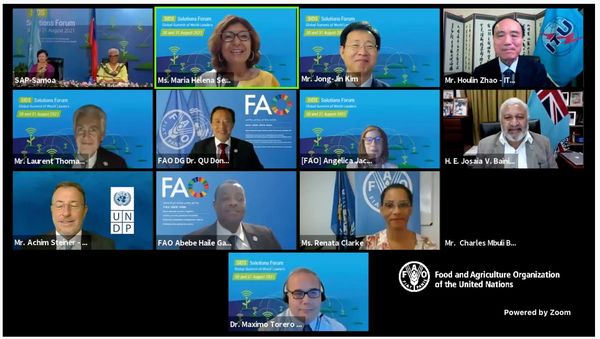 Fijian Prime Minister Voreqe Bainimarama says digital innovation can be a powerful driver of sustainable development sharing Fiji's experience which has shown how the digital revolution can have an outsized benefit for Small Island Developing States (SIDS).
Using Fiji as an example, the Prime Minister added that Fiji has evolved over the years in terms of its demography, economic and social development, its institutions and governance.
Bainimarama also acknowledged Fiji's increase in trade flows and investment levels whereby technological advancements have also been made on many front, and Fiji being digitally connected.
"We have no doubt that our economy will recapture its robust momentum once this pandemic is behind us."
Bainimarama shared with the Forum Fiji's improvements in terms of infrastructure and institutions, young people's engagements and optimism and the extension of digital connectivity across Fiji's many islands and rural communities.
While sharing Fiji's achievements on the digital front, Bainimarama also acknowledged the brutal economic impact of the COVID-19 which has set back years of sustainable development progress. The Prime Minister added that Fiji is now resetting course to 2030 by readjusting the nation's 5 Year & 20 Year National Development Plans – both of which has been formulated well before the pandemic – to strategically guide Fiji's recovery.
"The Plan consists of two prongs or approaches: "Inclusive Socio-economic Development" and "Transformational Strategic Thrusts". These prongs are mutually inclusive and reinforcing. I would like to focus now on the second approach – Transformational Strategic Thrusts. These are game-changing, forward-looking policy shifts to expand our development frontier and support the vision of transforming Fiji."
The Prime Minister further stated that Fiji's agriculture sector is focused on improving food and nutrition security by ensuring increased local production, raising farm efficiency and productivity, and developing more effective distribution systems. To achieve this, the Prime Minister said that new technology, mechanisation and better production practices are being adopted rapidly in Fiji's agriculture sector to ensure that there are better systems to distribute agricultural information, effective market linkages and improved arrangement for effective public-sector market.
"We are also supporting commercial-scale production to achieve greater economies of scale, promote organic farming, encourage the production of traditional crops and help develop niche agricultural and fisheries products. To protect that progress, we are adopting climate-resilient varieties to ensure environmental sustainability."
PM Bainimarama in his remarks at the SIDS Solution Forum also shared Fiji's excitement about innovation in cloud computing, 3D printing, inter-networking of smart devices and other emerging technologies that hold the potential to improve efficiency and productivity across the Fijian economy. The Prime Minister added that for agriculture, government will further explore mechanised land preparation and harvesting, modern seed-breeding methods, and hydroponic and greenhouse farming techniques to address the issues of poor soil fertility, declining farm productivity and intermittent local supply.
"The digital revolution has been a godsend to us, as it has for many other nations. Digital technology allows us to connect people over huge distances and expanses of ocean in real time. It allows us to bring government services right to people's homes and workplaces, no matter where they are. It gives every Fijian easy access to information available around the world."
Bainimarama said that Fiji is digitising as many government services as possible and will continue to work on improving digital connectivity in the agricultural sector through universal access to high-speed internet networks and broadband – until all areas of Fiji are digitally connected
SOURCE: FIJI GOVT/PACNEWS