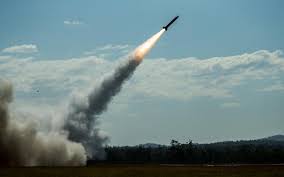 The U.S Army is planning its first Patriot missile air-defence exercise on Palau amid efforts by China to woo other Pacific island nations with offers of economic and security cooperation.
Okinawa-based soldiers from 1st Battalion, 1st Air Defense Artillery Battalion are expected to fire the Patriot during a 15 June drill, Capt. Nicholas Chopp, a spokesman for the 94th Air and Missile Defense Command at Joint Base Pearl Harbour-Hickam, Hawaii, told Stars and Stripes by phone last Wednesday.
"It's going to be the first time we have done [a Patriot live-fire drill] on Palau," he said. "And it's the second one west of the International Date Line."
Palau, one of a handful of nations that recognise Taiwan as independent of China, was excluded from Beijing's recent offer of economic and security assistance to 10 Pacific island nations, including nearby Micronesia.
Chinese outreach to small states in the region, which included a security pact signed with the Solomon Islands in April, has alarmed U.S allies and partners such as Australia and New Zealand.
This month's exercise in Palau has been in the works for more than a year and isn't a response to China's diplomatic moves, Chopp said.
The Army is sending a pair of Patriot launchers as well as radar and command and control systems and an unspecified number of soldiers to Palau for the exercise, he said.
Patriot Advanced Capability-2 missiles can travel up to 60 miles and reach as high as 20 miles, according to the Missile Defence Agency.
Palau has been involved in other U.S exercises, including Operation Christmas Drop in December, an annual humanitarian assistance exercise involving the 374th Airlift Wing out of Yokota Air Base, Japan.
In December 2020, following a visit by then-Defense Secretary Mark Esper, Palauan President Tommy Remengesau Jr proposed building joint-use military facilities in his country, which the U.S could use as needed.
The Patriot drill signals "renewed interest and commitment" by the U.S, Ralph Cossa, president emeritus of the Pacific Forum think tank in Hawaii, said by phone Wednesday.
The Army has moved its Patriot batteries around the Pacific frequently in the past year.
In March, a U.S Navy hovercraft delivered one of the surface-to-air systems to a Philippine beach for the first time during amphibious drills by U.S. and Philippine troops.
That same month, four launchers and 130 soldiers from the Army's Bravo Battery, 1st Battalion, 1st Air Defense Artillery Regiment deployed from Okinawa for the annual Balikatan 22 drills involving 5,100 U.S and 3,800 Philippine troops.
On Guam in September and November, a theoretical Patriot battery was incorporated into air-defense tests involving a Terminal High Altitude Area Defence, or THAAD, battery and an Iron Dome system brought from Texas by the 2nd Battalion, 43rd Air Defense Artillery Regiment.
A Patriot battery deployed to Japan's southern island of Amami during last summer's annual Orient Shield exercise. Also last summer, 65 soldiers from the 38th Air Defense Artillery Brigade deployed to Australia with a pair of Patriot launchers, a radar, power plant, control station and brigade and battalion command posts during the biennial Talisman Sabre drills.
SOURCE: STAR &STRIPES/PACNEWS