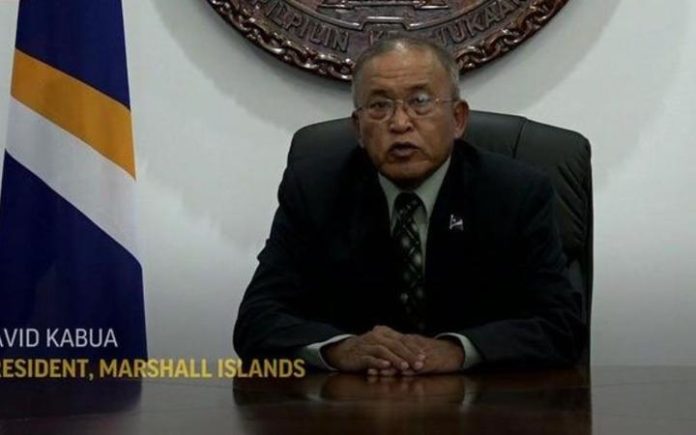 U.S President Biden's special envoy for Compact negotiations with the freely associated states Ambassador Joseph Yun is expected to head a team of Americans who will come to the Marshall Islands next week for the first in-person negotiating session with Marshall Islands authorities.
The U.S delegation is scheduled to arrive 14 June at the U.S. Army Garrison-Kwajalein Atoll, which is the headquarters of the Reagan Test Site missile facility. The discussions are scheduled to be held 14-15 June at the Kwajalein base.
The U.S delegation will not be subject to quarantine requirements although Covid-prevention protocols will be enforced, according to government authorities. The Marshall Islands currently requires a 14-day managed quarantine at Kwajalein and Majuro facilities, including multiple Covid tests prior to allowing people
The first round of talks on the Compact of Free Association come amidst a cabinet shakeup unprecedented in the 43-year history of the Marshall Islands by President David Kabua that has featured the replacement of the government's lead Compact negotiator after two-and-a-half-years in the role — Foreign Minister Casten Nemra — by Education Minister Kitlang Kabua, who has also assumed the Foreign Affairs portfolio. In addition, four cabinet ministers were sacked this past weekend by President Kabua, who brought in four new members of parliament.
Ambassador Yun was appointed by Biden in late March, taking over a negotiation process that has languished with little movement for two years. He is also responsible for negotiations with the Federated States of Micronesia and Palau. He has already met both FSM President David Panuelo and Palau President Surangel Whipps, Jr in person, but President Kabua by Zoom due to Covid border restriction for the Marshall Islands.
After a virtual meeting with Yun in May, President Kabua wrote President Biden saying he was "enthusiastic" about getting the Compact negotiations moving with Yun heading the U.S delegation.
The Ministry of Foreign Affairs last month issued a statement outlining the Marshall Islands expectations for the discussions. "Due to strong support from many members of the U.S Congress and senior Biden administration officials, there is a sense of enthusiasm in the Marshall Islands that the U.S will lend a sympathetic ear, offer a generous helping hand and consider Marshall Islands needs and concerns with a sincere commitment to address outstanding problems," said the statement. "Chief among these are the nuclear legacy, the climate crisis, the need to elevate the quality of health and education services, and the provision of essential infrastructure, such as world class hospitals for Majuro and Ebeye."
A senior Biden administration official last week provided international media with an update on Compact negotiations with the FAS as part of reporting on Biden's meeting with New Zealand Prime Minister Jacinda Ardern.
The U.S official, who was not named but referred to as a senior administration official, said the Biden administration is placing a strong focus on the Compact negotiations. "As part of our focus on the Pacific, we recognise the tremendous importance of concluding negotiations with the freely associated states of the Republic of Marshall Islands, the Federated States of Micronesia, and Palau," said the senior administration official. "And in order to do that and to be able to regain momentum on that and to try and conclude these agreements which we believe are vital for the United States as well as for the countries concerned, the President appointed Ambassador Joseph Yun as special presidential envoy for Compact negotiations."
Marshall Islands Chief Secretary Kino Kabua confirmed that Covid-prevention protocols similar to those developed for U.S Coast Guard search and rescue missions using Kwajalein as a base will be followed by the incoming U.S delegation.
"These protocols include things like testing before coming to the Marshall Islands, designated housing for overnight, seating arrangements that are spaced six feet apart, wearing of masks, no human to human contact while on Kwajalein," Kabua told the Marshall Islands Journal Friday. "These protocols revolve around a travel bubble for the visiting U.S. delegation from touchdown to when they depart Kwajalein."
New Marshall Islands lead negotiator Kitlang Kabua is the youngest member of the Marshall Islands parliament in her first term in office, representing Kwajalein Atoll. After two-and-a-half-years as education minister in the current government, she has just taken over as both chairperson of the country's Compact Negotiation Committee and the Foreign Affairs portfolio.
President Kabua's cabinet shakeup began late last year, when he dropped two of his cabinet members, bringing in two — Brenson Wase and John Silk — who had been key players in Heine's cabinet from 2016-2020. This past weekend's shakeup involved bringing in four new Nitijela members, three of whom were aligned with the Heine government.
SOURCE: MARIANAS VARIETY/PACNEWS