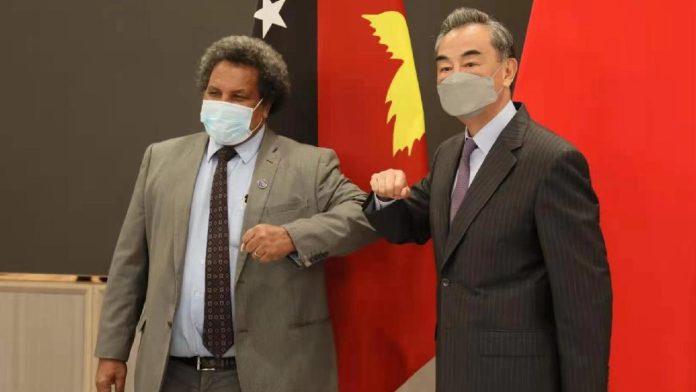 The Papua New Guinea Government says it will keep its doors open to China for any discussion on foreign assistance in terms of security for the country.
PNG's Minister for Foreign Affairs Soroi Eoi said while the country was part of the Treaty of Rarotonga, the discussion of security was a 'hotly debated discussion' and there is a 'collective agreement that all discussions have been postponed to next year'.
Soroi said PNG remains optimistic that more will be discussed in relation to the country's border security and its own internal security after a two-day meeting with China last week.
Meanwhile, China has called on all its bilateral partners to not believe in 'misinformation,' stating that it does not have plans to establish a 'Military base or have a military presence' in PNG.
China's State Councilor and Foreign Minister Wang Yi said: "China is always ready to extend a helping hand, some media outlets are hyping up a regional security agreement China intends to sign with Pacific island countries.
This is simply disinformation.
"China has come to the South Pacific region to build roads and bridges and improve the people's lives, not to station troops or build military bases.
China stands ready to work with Pacific island countries to expand consensus on regional cooperation, not to sign any regional security agreement.
"China never interferes in other countries' internal affairs and hopes that PNG will maintain good governance and social harmony and speed up development and revitalisation," he added.
Meanwhile, China is looking at improving its relationship with Australia, saying that 'there is no auto-pilot' mode and a reset of its relationship 'requires concrete actions'.
State Councilor and Foreign Minister Wang Yi noted that the crux of the difficulties in China-Australia relations in the past few years was that some political forces in Australia insist on viewing China as a rival rather than a partner and framing China's development as a threat rather than an opportunity.
This has led to a significant retrogression of the many-year positive and pragmatic China policy by Australia, the minister said.
He was responding to a question on the future prospects of China-Australia relations.
Wang said that the solution was to look at China and China-Australia relations in a sensible and positive way, uphold mutual respect, seek common ground while shelving differences, and create the necessary conditions for bringing bilateral relations back on the normal track.
A reset requires concrete actions. This meets the aspirations of people in both countries and the trend of our time.
SOURCE: POST COURIER/PACNEWS