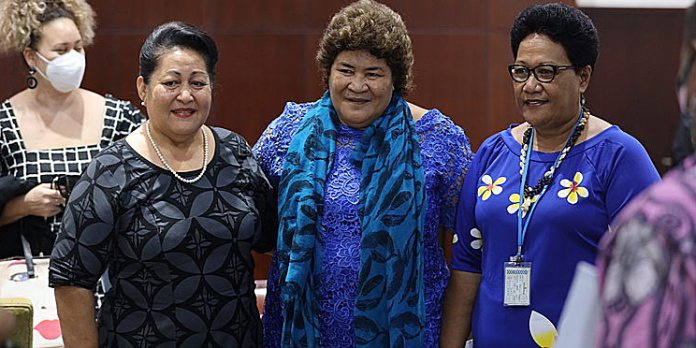 Samoa Supreme Court has ordered the Speaker of the House to administer the Oath of Allegiance for three additional women Members of Parliament in the Legislative Assembly.
The decision by the Court means the Human Rights Protection Party (HRPP) members, Aliimalemanu Alofa Tuuau, Faagasealii Sapoa Feagai and Faatuatua i le Atua Samoa ua Tasi (FAST) party member Toomata Norah Leota are to be sworn in boosting the number of seats in the House to 54.
The XVII Legislative Assembly will now have seven women Members in the House.
The Court's ruling now means HRPP commands 22 seats in the parliament with the FAST party maintaining its majority of 31 representatives following the death of the former MP for Gagaifomauga No. 2 Vaele Sekuini.
Chief Justice, Satiu Simativa Perese, Senior Justice Vui Clarence Nelson and Justice Lesatele Rapi Vaai handed down the decision Wednesday.
In their decision the Supreme Court ruled Aliimalemanu and Faagasealii are additional MPs pursuant to 44 1a, 44 1a(b), 44 1b of the Constitution.
Toomata will be sworn be in as additional MP under Article 1a (b) and 44 1E of the Constitution.
Aliimalemanu contested from the Alataua West constituency in April's General Election while Faagasealii from Aleipata Itupa Lalo seat pushed through in November's by-election.
The Office of the Electoral Commission had recommended the Members to be awarded the seats to fulfil the requirements of Article 44 (1a) and be sworn in to make up six women Members in the House.
But the Speaker Papalii Lio Masipau Lio rejected the swearing-in of the two additional Members on grounds that there were legal challenges, mainly the one being pursued by FAST women candidate.
Toomata Norah Leota who was endorsed by the FAST party in the main election had challenged the activation of the women quota by the Electoral Commissioner….
SOURCE: SAMOA OBSERVER/PACNEWS