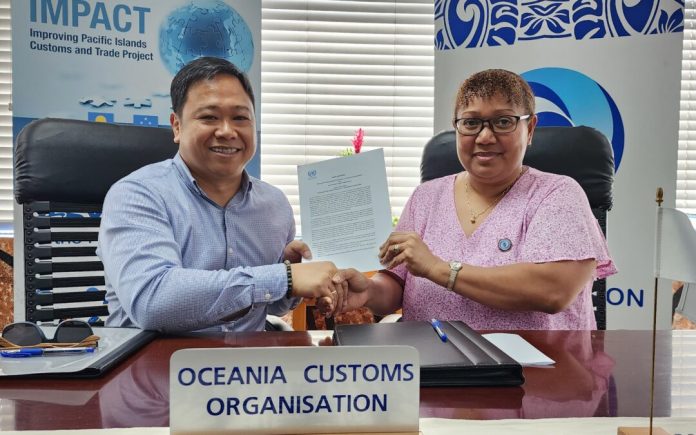 The Oceania Customs Organisation (OCO) has appointed Nancy Tati Oraka- Pomoso to be its Head of Secretariat, who becomes the first female and Papua New Guinean to lead the organisation in its 24-year history.
Oraka replaces Richard Brennan and comes with over 23 years of service in PNG's public service and a few years in the private sector.
"We had a very competitive list of applicants to choose from and we are confident of our choice in Nancy, who has held leadership roles in Papua New Guinea, which is also one of our biggest members," OCO Steering Committee Chairman, Randy Sue said.
"The fact that the top candidate, on merit, is a woman is also testament to the fact that Customs is no longer a male dominated sector and that our development programs for our women Customs officers is coming into fruition."
Oraka first served with the PNG Internal Revenue Commission and spent 12 years working in VAT/GST before joining the International & Public Relations Section.
She joined Customs in 2011, when it was demerged from Internal Revenue Commission and has served in various sections including Border Management, International Relations, Modernisation and Southern Region Operations. Oraka has served as the Regional Director Southern Region Operations overseeing the Ports of Port Moresby, Jacksons, Alotau and Oro.
She holds a Master's degree in Customs Administration (and International Law) from Charles Sturt University (Centre for Customs and Excise Studies) and a Bachelor of Arts Degree, majoring in International Relations with a minor in Public Administration.
"It is an honour to be appointed as the Head of Secretariat of OCO and to oversee how the organization can support its 23-member countries. There is a considerable amount of work to be done considering the challenges we face in the region in the areas of border security, and trade facilitation," Oraka says.
"In recent years, our members have experienced increasing challenges in the smuggling of goods, people, drugs, weapons. There is a greater demand for our members to upgrade their technologies and systems to be on par with the rest of the world. All these challenges reinforce the need for the region to work together as we have always done. There needs to be more collaboration because I believe that together we certainly will achieve more," she said.
SOURCE: OCO SECRETARIAT/PACNEWS