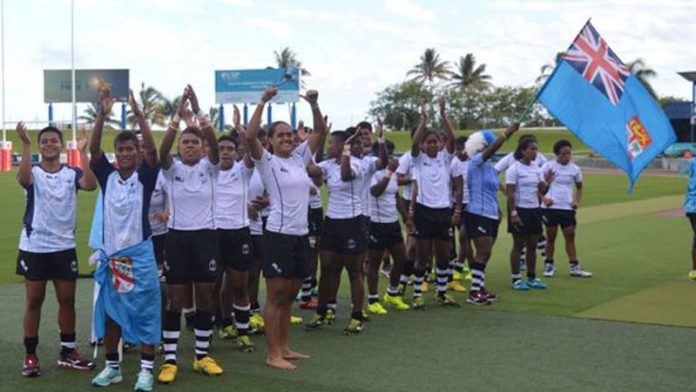 Fijiana 15s head coach Senirusi Seruvakula has made several changes to his side to face the Australian Wallaroos at Suncorp Stadium in Brisbane tonight.
Sereima Leweniqila will captain the side from the base of the scrum.
The match kicks off at 7pm.
Fijiana (1-15): Joma Rubuti, Karalaini Naisewa, Vika Matarugu, Jade Coates, Merevesi Ofakimalino, Ema Adivitaloga. Emma Masi, Sereima Leweniqila (c), Reijieli Uluinayau, Luisa Yaranamua, Vitalina Naikore, Rachel Laqeretabua, Talei Wilson, Kolora Lomani, Roela Rainiyavuni.
Reserves (16-23): Keleni Marawa, Mereoni Namositawa, Ebony Satala, Akosita Ravato, Teresia Tinanivalu, Rusila Tamoi, Merewalesi Rokouono, Timaima Ravisa….PACNEWS
Meanwhile, Wallaroos coach Jay Tregonning has named 11 debutants for Friday's first Test of 2022 against Fijiana at Suncorp Stadium.
Former Sevens star Georgina Friedrichs headlines the new faces, coming into the centres alongside fellow Waratah Pauline Piliae.
They are amongst 15 Waratahs named in the squad, rewarded for their strong showing in Super W, with Tregonning looking to usher in a new era for the program as they embark on the 'Road to New Zealand'
"With so many debutants in the side, this is a truly historic moment for the Buildcorp Wallaroos – and signals a clear path forward for our programme," Tregonning said in a statement.
"The team has waited an extremely long time for this Test and the group we have assembled here on the Gold Coast is a truly special selection of players."
Queensland Reds flyer Ivania Wong's impressive form saw her named on the wing, joined by Mahalia Murphy and Lori Cramer in the back three.
Waratahs duo Adiana Talakai and Bridie O'Gorman have been named to start in the front-row along with the experienced Liz Patu, with Waratah teammate Kaitlan Leaney partnering Michaela Leonard to round out the tight five.
Shannon Parry will lead the side from openside flanker, forming an imposing back-row alongside Emily Chancellor and Grace Hamilton.
Queensland prop Madison Schuck is amongst five names in line for their debut off the bench, with the 30-year-old producing several standout performances during Super W.
Wallaroos mainstay Sera Naiqama is in line for a long-awaited debut, with Waratahs team-mates Piper Duck, Layne Morgan and Brumbies flyer Jemima McCalman rounding out the new faces on the bench.
"We've spoken a lot surrounding how this team fits together after such a competitive Buildcorp Super W season and I couldn't be prouder of this group for the work they put in to come together as one cohesive unit," Tregonning added.
"This Test against Fiji, as well as our next Test against Japan on the Gold Coast on Tuesday, represent the start of a new era for the Buildcorp Wallaroos as we build up to the Rugby World Cup later this year."
It will mark the first time the Wallaroos will wear the iconic gold jersey, which pays homage to the World Cup-winning side of 1991.
Buildcorp Wallaroos team to play Fijiana at Suncorp Stadium, Brisbane on Friday.
1. Liz Patu – Queensland Reds (23 caps)
2. Adiana Talakai – NSW Waratahs*
3. Bridie O'Gorman – NSW Waratahs*
4. Michaela Leonard – Brumbies (4 caps)
5. Kaitlan Leaney – NSW Waratahs*
6.Emily Chancellor – NSW Waratahs (6 caps)
7. Shannon Parry (C) – Queensland Reds (12 caps)
8. Grace Hamilton – NSW Waratahs (15 caps)
9. Iliseva Batibasaga – NSW Waratahs (15 caps)
10. Arabella McKenzie – NSW Waratahs (4 caps)
11. Ivania Wong – Queensland Reds*
12. Pauline Piliae – NSW Waratahs*
13. Georgina Friedrichs – NSW Waratahs*
14. Mahalia Murphy – NSW Waratahs (11 caps)
15. Lori Cramer – NSW Waratahs (4 caps)
Replacements
16. Ashley Marsters – Melbourne Rebels (10 caps)
17. Madison Schuck – Queensland Reds*
18. Asoiva (Eva) Karpani – NSW Waratahs (2 caps)
19. Sera Naiqama – NSW Waratahs*
20. Piper Duck – NSW Waratahs*
21. Layne Morgan – NSW Waratahs*
22. Trilleen Pomare – Western Force (11 caps)
23. Jemima McCalman – Brumbies*.
SOURCE: FIJI TIMES/RUGBY.COM.AU/PACNEWS