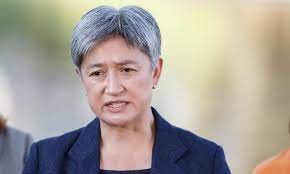 Australian Labor foreign affairs spokeswoman Penny Wong has hinted at how she would handle the deteriorating relationship with the Solomon Islandsif Labor wins government.
Responding to a ramping up of rhetoric by Solomons Prime Minister Manasseh Sogavare this week, Senator Wong said the regional security of the Pacific "goes beyond any single leader or any single nation".
Speaking on ABC News Breakfast on Thursday, she referenced a "longstanding principle" that the region provides its own security rather than relying on "external strategic powers".
She conceded it would take time to repair Australia's relationship with the Solomon Islands, which has soured since the latter signed a controversial security deal with China.
Following news Scott Morrison had not spoken with his Solomon Islands counterpart for several weeks, Senator Wong suggested she would be for open communication between the countries.
"Prime Minister Sogavare has his views, Australians have ours," Senator Wong said.
"If I get the opportunity to serve as foreign minister I look forward to the opportunity to discussing those views with the Prime Minister."
Senator Wong said the way Morrison had dealt with the issue surprised her.
"Quite a lot of the way in which Morrison has dealt with this issue has surprised me and I think Australians have been surprised," Senator Wong said.
"Australia was warned about this in August last year, and despite that and a number of other warning signs, I don't think Australians see at a political level actions being taken that reflects the imperative for Australians to continue to work to be the partner of choice.
"This is not an optional extra, this is fundamental to our security."
Labor's strategy in the Pacific also includes increasing foreign aid to Pacific island countries and Timor-Leste by $525m (US$737 million) over four years.
Morrison insists Australia remains Solomon Islands' preferred security partner despite admitting he hasn't spoken to Sogavare for at least a month.
Sogavare this week said critics of his government's controversial security deal with China had treated his country like "kindergarteners with Colt 45s".
"We deplore the continual demonstration of lack of trust by the concerned parties and tacit warning of military intervention in Solomon Islands if their national interest is undermined in Solomon Islands," Sogavare said in an extraordinary address to his nation's parliament.
Morrison has declined to say when he last spoke to Sogavare, or if he has contacted him since the Solomon Islands deal with Beijing.
Pressed on the matter on Thursday, Morrison insisted his government's flagship "Pacific Step-Up" engagement programme had not failed in its aim of strengthening Australia's relationships in the region.
Morrison has repeatedly referred to Solomon Islands as part of the regional "family" despite widespread concerns about a souring of relations between the Pacific island nation and Australia.
But asked earlier on Thursday if he would call Sogavare, Morrison refused to say.
"I will continue to work constructively with the Solomon Islands government as we always have," Morrison told the Nine Network.
Morrison was interrupted by Today host Karl Stefanovic who asked: "What does that mean PM?"
"It means we deal with these things diplomatically … professionally, calmly, rationally," Morrison said.
SOURCE: 9 NEWS/ PACNEWS