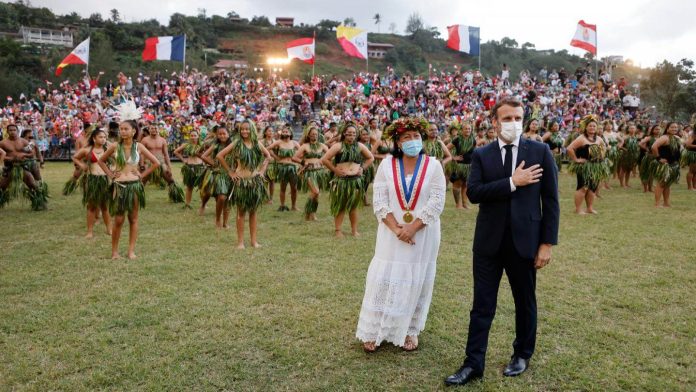 By Nic Maclellan
Seeking re-election as French President, Emmanuel Macron topped the poll amongst 12 candidates in the first round of voting for leadership of the French Republic, held on Sunday. Macron will now face off against Marine Le Pen of the extreme right Rassemblement National in a second round of voting for the presidency, to be held in a fortnight.
The contest has significant implications for the Pacific, where Macron topped the vote in all three Pacific dependencies: New Caledonia, French Polynesia and Wallis and Futuna. However, without compulsory voting there was a high rate of abstention across the Pacific, and many ordinary voters – especially supporters of independence – were reluctant to participate.
Official results for the first round of voting on 10 April will be posted later today, but the current estimated results show Macron of La République en marche (LREM – the Republic on the move) winning 27.4% of the vote, against 24.2% for Marine Le Pen of Rassemblement national (LRN – National Rally). Left-wing candidate Jean-Luc Mélenchon of La France insoumise (LFI – France unbowed) polled strongly with 21.4%. All other candidates scored less than 10%, and are now encouraging their supporters to turn out for the second round contest between Macron and Le Pen on 24 April.
While the outcome is determined by voters in Europe, there were striking results across France's overseas dependencies in the Pacific, Atlantic and Indian Oceans. In five of the 11 overseas territories, the Left's strongest candidate Jean-Luc Mélenchon topped the poll, gaining more than 50% of the vote in the Caribbean dependencies of Martinique, Guadeloupe and Guyana. In all three Pacific colonies, however, Macron led the field, with the strong support of local anti-independence parties.
French Polynesia: In his first successful bid for the presidency in 2017, Macron didn't get one official endorsement from Tahiti. This year, President of French Polynesia Edouard Fritch encouraged members of his Tapura Huiraatira party to back the French President (Of 206 formal endorsements for Macron from overseas dependencies, 91 came from mayors and Assembly members in French Polynesia).
In Sunday's vote, Macron won 40.25% of the vote in French Polynesia, followed by Le Pen with 19.45% and Mélenchon with 13.24%. Turnout was very low, with only 30.87% of registered voters going to the poll (and 4.39% of those voters casting a blank or invalid ballot).
Independence leader Oscar Temaru had called on supporters of his Tavini Huiraatira party to abstain from voting, and French Polynesia is only just coming out of its third wave of Covid-19 infections. Macron has improved his results through support from the governing Tapura Huiraatira, his July 2021 visit to Tahiti and the Marquesas Islands, and increased French funding for COVID-recovery after three waves of coronavirus infection that have left French Polynesia with the highest per capita rate of infection in the islands region.
Wallis and Futuna: On Sunday, there was a higher turnout in Wallis and Futuna with participation from 56.71% of registered voters. Once again, President Macron led the field with 39.47%, followed by the centre-right candidate Valérie Pécresse of Les Républicains (LR – The Republicans) on 25.27%, Marine Le Pen on 10.8% and Jean-Luc Mélenchon on 9.35%.
New Caledonia: In New Caledonia, Macron was supported by 40.51% of registered voters, followed by Le Pen on 18.83% and Mélenchon on 13.77%. Once again, turnout in New Caledonia was low, with participation from just 33.35 % of registered voters. In 2017, 91,226 New Caledonians turned out for the first round of the Presidential vote – this year there were only 72,967!
The largest pro-independence party Union Calédonienne (UC) had called on its supporters to ignore the election (at their executive meeting last month, UC leaders "decided not to participate in the April 2022 presidential elections, but at its next Congress will explore the possibilities of utilising all forums, including the National Assembly and Senate, to defend its positions"). Other pro-independence parties, such as the Parti de Libération Kanak (Palika), Parti Travailliste and Dynamique Unitaire Sud had endorsed a vote for Mélenchon or other left-wing candidates, did not strongly campaign for the poll.
Implications for independence
The most striking shift in New Caledonia is the growth in support for Macron, who polled poorly at the last presidential elections (in 2017, he only won support from 12.76% of New Caledonian voters, compared with 40.51% Sunday).
For his 2017 election bid, Macron presented himself as a centrist "neither Left nor Right" candidate, opposed to the centre-right Republicans and centre-left Socialist Party. Since then, however, the French President has won support from key conservative leaders in New Caledonia, who welcome his government's opposition to independence, his neoliberal business-oriented austerity policies and his strategic commitment to the Indo-Pacific region. Conservative leaders were delighted with the French government's decision to proceed with New Caledonia's third referendum under the Noumea Accord in December 2021, against the call for delay from Kanak customary and political leaders.
For this round of the presidential elections, former President Thierry Santa and his Rassemblement-les Républicains party had endorsed their national leader Valérie Pécresse (who performed poorly in the first round). Beyond this, however, Macron gained formal endorsements from most Right-wing, anti-independence leaders, including France's two representatives in the French National Assembly Philippe Gomès and Philippe Dunoyer of the Calédonie ensemble party, together with the anti-independence mayors of major towns across the Southern Province: Sonia Lagarde (Noumea), Nicolas Metzdorf (La Foa), Willy Gatuhau, (Païta) and Patrick Robelin (Bourail). Only one New Caledonian politician (Guy-Olivier Cuenot) issued a formal endorsement for Marine Le Pen before Sunday's vote.
The most striking shift came from leading conservative politician Sonia Backès, the President of New Caledonia's Southern Province and leader of the anti-independence party Les Républicains calédoniens. Five years ago, Backès was a sharp critic of the French President, but today, she is one of his loudest champions.
In January, Backès announced: "If New Caledonia has remained French, it is thanks to the commitment of Emmanuel Macron and [his Overseas Minister] Sébastien Lecornu… He had the courage, during his five-year term, to follow through with the three referendums, without ever giving in to the blackmail of the independence movement. He has a vision for our territory with his Indo-Pacific axis project, which places New Caledonia at the centre of an ambitious national strategy."
As supporters and opponents of independence prepare for looming negotiations on the future political status of New Caledonia, Backès looks to Macron as a bulwark against independence: "I am on the Right and I remain on the Right, but I consider that he is the best candidate for New Caledonia and for France."
This fundamental shift towards the French President is important for New Caledonia's future, as Macron and Le Pen face off against each other in the second round. In the final results of the 2017 Presidential election, Le Pen won 47.43% support against Macron amongst conservative New Caledonian voters, but the President will likely improve his score this year.
In their final pitch to New Caledonians before Sunday's poll, Le Pen focused on concrete issues of cost of living and social welfare, avoiding discussion of the French dependency's future political status or her racist, anti-immigrant policies: "Our program in New Caledonia revolves around four major axes: reviving the local economy, increasing everyone's purchasing power, defending our rights and freedoms, and finally guaranteeing the safety of all."
As he pledged to listen to a younger generation on the future of New Caledonia, Emmanuel Macron's presentation was full of generalities, noting: "The project I am carrying out for New Caledonia is part of the ambition I have for our nation: I believe in a strong, free France; a cultural, scientific, industrial, military, diplomatic and economic power."
Both candidates are opposed to independence in New Caledonia and hostile to calls from the FLNKS for another referendum on self-determination under the auspices of the United Nations. During the election campaign, the extreme-Right candidate Eric Zemmour stressed: "The UN should not interfere in the affairs of France. New Caledonia is French and France is able to organise consultations in accordance with the spirit and the letter of the French Constitution. To accept that the United Nations organises an election on French soil is a sign of weakness."
After the second round of voting on 24 April, the incoming President will await results of elections for France's National Assembly in June, before appointing a Prime Minister and a new Overseas Minister. The new government will then enter negotiations with supporters and opponents of independence in New Caledonia about the aftermath of the Noumea Accord.
France in the Indo-Pacific
These negotiations will come in a rapidly changing geopolitical context, with increased US-China strategic competition and proposals from President Macron for France to "balance" the two major powers in the Pacific – a proposal damaged by the creation of the AUKUS partnership in September 2021. The priority that Western powers will give to the region dubbed the "Indo Pacific" is also in question, complicated by the war in Europe and a renewed US focus on NATO.
During his May 2018 visit to Australia and New Caledonia, Macron argued that "France is a great Indo-Pacific power" and highlighted his strategic vision for an India-France-Australia axis in the region: "Our shared priority is to build this strong Indo-Pacific axis to guarantee both our economic and security interests. The trilateral dialogue between Australia, India and France has the possibility to play a central role in this."
However the expanding Australia-France strategic partnership was damaged by the creation of the Australia-United Kingdom-United States partnership (AUKUS) in September 2021, "an enhanced trilateral security partnership" between the three countries. US President Joe Biden, UK Prime Minister Boris Johnston and Australian Prime Minister Scott Morrison pledged joint action on technology transfer, co-operation on cyber warfare and maritime research and "a shared ambition to support Australia in acquiring nuclear-powered submarines for the Royal Australian Navy."
Given that France's Indo-Pacific strategy is centred on arms sales to India, Australia and ASEAN, the abrupt cancellation of the $90 billion Naval Group submarine contract with Australia was a bitter blow. Blindsided by this diplomatic snub, President Macron and Foreign Minister Jean-Yves Le Drian reacted with anger and bitterness. Asked whether he thought the Australian Prime Minister had lied to him, Macron famously responded: "I don't think, I know."
In February this year, the French government released a revised version of 'France's Indo-Pacific Strategy', which deleted references to the Australia-France strategic partnership and noted: "Australia's decision in September 2021, without prior consultation or warning, to break off the partnership of trust with France that included the Future Submarine Program, has led to a re‑evaluation of the past strategic partnership of the two countries." Post-AUKUS, "France will pursue bilateral cooperation with Australia on a case‑by‑case basis, according to its national interests and those of regional partners."
French officials in the Pacific continue to cooperate with Australia and the United States on humanitarian and disaster responses (such as assistance to the Kingdom of Tonga after the January volcanic eruption). However the bitter division between Canberra and Paris complicates future relations between France and the AUKUS partners, even in the face of rising Chinese influence in the Pacific. New governments in France and Australia will be forced to rebuild their shattered relationship after the second round of the French presidential elections on 24 April, Australian federal elections on 21 May and French legislative elections on 12 and 19 June.
Meanwhile France is the only member of the European Union with colonies in the Pacific and in recent years, has been extending its partnership with Forum Island Countries through regional diplomacy and significant new funding to the Pacific Community (SPC).
Relations with Forum member states – and especially the Melanesian Spearhead Group – will be tested as New Caledonia moves to the endgame of the Noumea Accord. In early May, the Front de Libération National et Socialiste (FLNKS) will hold a Congress to determine its joint position towards negotiations on future political status. FLNKS spokesperson and UC President Daniel Goa has rejected the 18-month deadline for a new agreement set by outgoing Overseas Minister Sébastien Lecornu, stating: "We will not discuss a draft, we are preparing for a referendum on sovereignty and emancipation…. The achievements of the Nouméa Accord are real and we will not give them up."
Goa has rejected proposals from anti-independence leaders to open up the electoral rolls for New Caledonia's three provincial assemblies and local Congress – changes that would add more than 40,000 French nationals to the electorate for the local institutions: "Changing, adjusting, transforming or modifying the electorate, thus changing the make-up of the New Caledonian people, would be a very serious political error and everyone will have to assume the consequences."
Either candidate for the French presidency will face a strong and ongoing challenge from the Kanak people and other supporters of independence. As Daniel Goa stated in February: "Kanaky-New Caledonia is not a French land as some people think, but a land of Oceania. This land is Melanesian and we will now assert our differences. We no longer want to be stooges of "France Pacific" and the nebulous Indo-Pacific axis.".
SOURCE: ISLANDS BUSINESS/PACNEWS