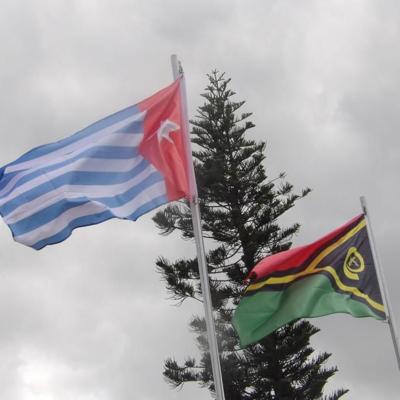 The Vanuatu Government through the Minister for Foreign Affairs, Marc Ati, has expressed utter dismay at the announcement by the Director General of the Melanesian Spearhead Group (MSG) Secretariat regarding a recent voluntary contribution of US$100,000(VT10.9 million) by the Indonesian National Police, to the Secretariat.
"The Secretariat's accompanying press statement implied that the donation has the support of the membership, which it doesn't," Minister Ati said.
"While the donation is to support the development of MSG's Regional Security Strategy, it does not command the blessing of the entire membership.
"Moreover, given that the donation was to promote the MSG's common goal of peace and security, sustainable development and prosperity, within its '2038 Prosperity for All' Plan, consultation with the entire membership prior to accepting it would have been proper.
This is also mindful of related sensitivities surrounding Indonesia's accession to the MSG, as an Associate Member.
"What is becoming increasingly clear to Vanuatu is that while Indonesia's associate membership in the Group is by virtue of representing and protecting its ethnic Melanesian population, these same people continue to be marginalised and oppressed, especially in the Provinces of Papua and West Papua.
"As an organisation that was set up to raise the plight of Melanesian populations who continue to be marginalised in their own lands, the MSG has no place for the pursuit of subversive or domination politics, especially by bigger players, over its membership," he said.
Vanuatu appeals to members of the Global Community to prudently assert their influences, through the United Nations, its subsidiary organs, committees and conventions, to deal with the unfinished business of colonialism, and ongoing human rights violations in the Pacific, especially in West Papua.
The Vanuatu government also reiterated the call for the Office of the High Commissioner for Human Rights to undertake that long overdue fact-finding mission to West Papua, a call made by Leaders of the Pacific Islands Forum in 2019.
This is in addition to common security threats and challenges faced by the 'MSG region' and the Pacific, such as the existential threat of Climate Change, and the ongoing ravages of COVID-19.
SOURCE: VAMUATI DAILY POST/PACNEWS