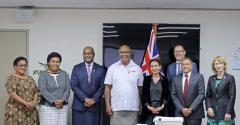 The United Nations and Fiji Government have renewed their commitment in creating a better and brighter future for every child in Fiji.
This was conveyed Monday during a meeting held between the Deputy Prime Minister and Minister for Trade and Cooperatives Manoa Kamikamica and the Special Representative of the Secretary General (SRSG) on Violence Against Children (VAC), Dr Najat Maalla M'jid.
She was accompanied by the UN Resident Coordinator to the Pacific UN Country Team, Sanaka Samarasinha and the UNICEF Pacific Representative,Jonathan Veitch.
Dr M'jid's first visit to Fiji is an important step towards strengthening Fiji and the UN partnership to empower children and build an inclusive, peaceful, just and resilient society that 'leaves no one behind.'
It will be a platform for her to engage with key stakeholders to support and mobilize further action on child rights, as well as promote good practices and progressive partnerships at all levels.
Dr M'jid's meeting with the Deputy Prime Minister Kamikamica highlighted prospects for partnership in key sectors such as child protection, social welfare, justice, education and health, climate change.
DPM Kamikamica welcomed Dr M'jid for her timely visit to Fiji which symbolizes Fiji and UN's shared commitment on providing for the wellbeing of all children.
He commended Dr M'jid for being a strong advocate for protecting the rights of the children and also acknowledged the support provided to Fiji by the UN Resident Office and UNICEF Pacific.
At the same time, DPM Kamikamica reaffirmed the Fiji Government's commitment to work closely with the UN Pacific in delivering quality care and nurture conducive environment for every child in Fiji to reach their full potential in life.
DPM Kamikamica thanked Dr M'jid for the discussions they had on building a unified approach to the development and wellbeing of children in Fiji.
He conveyed his best wishes to Dr M'jid for the deliberations she will undertake in Fiji over the next few days.
In response, Dr M'jid said she is grateful for the opportunity to meet with the Deputy Prime Minister Kamikamica, Minster for Women and Children,Lynda Tabuya and other key stakeholders during her visit to Fiji.
"The purpose of my visit is to build on the strong political commitment and progress already achieved in tackling violence against children, while identifying effective ways to overcome the remaining challenges.
"I count on learning more about Fiji's work in this area, sharing experiences from other countries and regions, and promoting further investment in integrated approaches to violence prevention and response," Dr M'jid said.
The UN Resident Coordinator, Sanaka Samarasinha said, "I am pleased that the Government of Fiji recognises the urgency of the issue and has invited the Special Representative to Fiji during a visit that will also take her to the Solomon Islands.
"It is going to take a whole of society effort to protect our children, and so, during her visit, she will meet with a range of stakeholders to identify how the UN can continue to help Fiji in this vital effort that is at the core of the Sustainable Development Goals (SDGs) and will help determine the future of Fiji," Samarasinha said.
UNICEF Pacific's Representative, Jonathan Veitch, said UNICEF is pleased to be strongly partnering with the Fiji Government to ensure that all children are safe and protected in their homes and communities.
"Violence against children is not new in the Pacific: physical, emotional and sexual abuse can happen anywhere, in homes, in schools, online and in institutions. We are working together to reach all children, including those living in the most remote areas. This visit will positively elevate Fiji's efforts to prevent and respond to all forms of violence against children," Veitch highlighted.
SOURCE: FIJI GOVT/PACNEWS