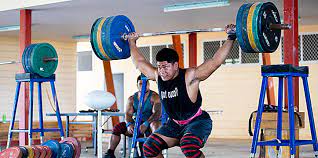 Weightlifter Don Opeloge has taken top spot in the 2022 Oceania Online Cup to become the best male lifter in the region with his brother Jack coming second.
His brother Jack's second placing in the regional tournament rounded off a weekend of success for the Opeloge family and Samoa, after Feagaiga Stowers took out the best overall female lifter award in the same competition a day earlier on Saturday.
The Opeloge brothers took out the top honours on Sunday night when the competition was held virtually and featured 15 weightlifters from a number of island nations including Australia and New Zealand.
Opeloge won the overall best male lifter award at the tournament and in the process picked up a AUD$3,000 (WST$5,600) prize money while his brother Jack as the runner-up received AUD$1,500 (WST$2,700). Both brothers lifted over 200kg each.
The Samoa Weightlifting Federation President, Tuaopepe Jerry Wallwork, told the Samoa Observer on Monday that Sunday was a successful day for the Opeloge brothers and Samoa weightlifting.
"Realistically, both Opeloge brothers are in the running for gold in Birmingham," Tuaopepe said. "There is still a lot of work left to be done but they are on the right path."
The Opeloge brothers are part of the Samoan weightlifting team that will be heading to the Commonwealth Games in Birmingham, United Kingdom in July this year. Others in the team include Stowers, Nevo Ioane, John Tafi and Petelo Lautusi.
The team's attendance at the Commonwealth Games in July this year will mark their first international tournament in 2 years after they withdrew from the 2020 Tokyo Olympics last year due to Samoa Government's concerns over COVID-19 infection.
SOURCE: SAMOA OBSERVER/PACNEWS