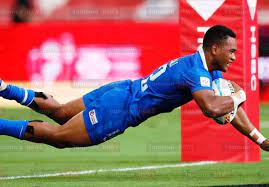 Two Samoa players will debut in the upcoming legs of the HSBC Sevens in Toulouse and London at the end of this month.
The players are Ati Junior Ati and Neueli Molesi Leitufia both of the Laulii Club. Twenty year old Ati was one of two players called by the Head Coach, Muliagatele Brian Lima to join the training squad in Dubai anticipating injuries ahead of the upcoming legs of the highly competitive rugby sevens tournament.
Also rejoining the 13 man squad is Co-Captain Melani Matavao from injury, as well as Steve Onosa'i and Paul Scanlan who missed crucial matches of the Vancouver leg of the tournament.
Other than Co captain Melani Matavao who is the Manu 15s halfback, the team is made up of mostly locally based players and the team's first outing in Singapore and Vancouver showed a lot of promise despite having just played at this level of international rugby.
The Manu Samoa Sevens squad for the up-coming Toulouse 7s and London 7s legs of the HSBC World Sevens Series 2022 was announced by the Head Coach.
1. Melani Matavao – (Co Captain), Marist St. Josephs
2. Vaafauese Apelu Maliko – (Co Captain), Tepatasi
3. Vaovasa Afa Sua – (Co Captain), Tamauli Salelologa
4. Ati Junior Ati – Laulii (debut)
5. Faafoi Falaniko – Tepatasi
6. Iafeta Purcell – Tepatasi
7. Neueli Molesi Leitufia – Laulii (debut)
8. Miracle Faiilagi – Vailele
9. Motu Opetai – Siumu
10. Owen Niue – Tamauli Salelologa
11. Paul Scanlan – Moataa
12. Steve Onosai – Vaiala
13. Uaina Sione – Tamauli Salelologa
MANAGEMENT
14. Muliagatele Brian Lima – Head Coach
15. Tausa Faamoe Faamaoni Lalomilo – Assistant Coach
16. Tuala Leaega Pat Leota – Team Manager
17. Junior Narayan – Analyst
18. Jon Garcia – Physiotherapist.
SOURCE: TALAMUA ONLINE/PACNEWS