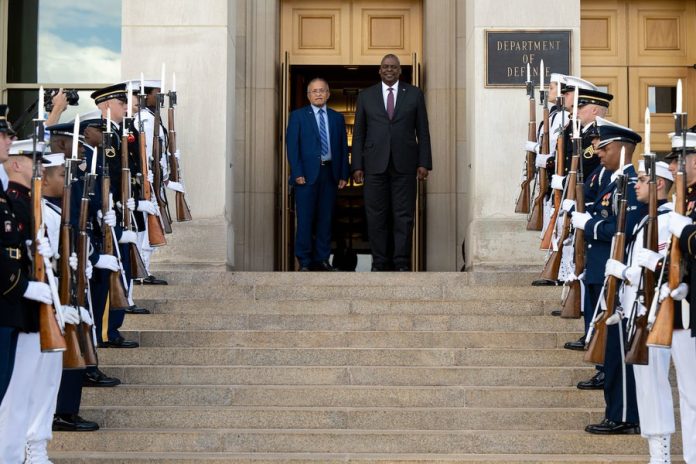 U.S Secretary of Defence Lloyd J. Austin III has met with Marshall Islands President David Kabua, who is in Washington to participate in the first U.S-Pacific Island Nation Summit with President Joe Biden later this week.
"he partnership between the United States and the Republic of the Marshall Islands is strong, and we have long shared the vision of a free and open Indo-Pacific," Austin said at the beginning of the meeting.
"The United States is a proud Pacific nation, with states, a long coastline and territories in the Pacific."
The island nations of the Pacific are neighbors, allies and friends of the U.S, he said. "Our countries are bound by a shared history, shared values and profound links between our people," the secretary said.
"We are more than just two Pacific nations — we are family. I'd also like to recognise so many citizens of the Republic of the Marshall Islands for their proud record of service in the U.S Armed forces."
Per capita, more Marshallese serve in the U.S. military than residents of many states, Babua said.
The Marshall Islands also host U.S forces, like the U.S Army Garrison at Kwajalein Atoll, which includes the Ronald Reagan Ballistic Missile Defence Test Site.
The island nation faces serious challenges. China, with its efforts to subvert the rules-based system, is the main challenge, which is compounded by the effects of COVID-19 and the increasing dangers posed by climate change, the secretary said.
"The United States remains your steadfast partner — committed to you now and into the future," Austin said.
"The Department of Defence is deeply committed to our defense responsibilities to the Marshall Islands as part of the Compact of Free Association, and we look forward to successfully negotiating the economic assistance provisions of that contract that will further strengthen our partnership and help us work together toward a free, open and secure region," he said.
SOURCE: US GOVT/PACNEWS