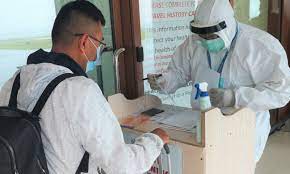 Samoa's Ministry of Health (MOH) has reported 155 new community cases of COVID-19 in the last 24 hours to push the country's cumulative total to 622.
Upolu continues to lead in terms of total cases with the MOH confirming 606 cases with Savai'i recording 16 active cases.
According to the MOH health workers have administered a total of 940 Rapid Antigen Tests (RATs) since Tuesday in 17 designated COVID-19 screening sites, in addition to tests conducted in health facilities.
Out of this total, 827 of the tests were administered in Upolu and 113 in Savai'i.
The data by age group shows that people in the 15–35 age bracket record the highest percentage of positive cases.
The smaller islands of Manono-Tai and Apolima-Tai are yet to record a community case since the first case was reported last Thursday.
There are currently four cases in the isolation ward at the Tupua Tamasese Meaole National Hospital (TTM) Moto'otua with zero cases in the hospital's intensive care unit. There have been no deaths recorded since the outbreak in community cases.
The country is currently in an Alert Level 3 nationwide lockdown which went into effect from midnight Wednesday.
On Wednesday morning members of the public converged on the various vaccination sites in Apia in a bid to get their second dose of the vaccine, update their vaccination cards or get tested for COVID-19.
Despite the presence of police officers at the various vaccination sites, there was hardly any enforcement of social distancing as the individuals stood shoulder-to-shoulder to wait their turn to either undergo screening and testing for the COVID-19 or receiving vaccination.
MOH public notices posted on social media advised that its staff only did vaccinations at the EPI Blue Building, Credential Building and Matagialalua Clinic. And screening and testing for COVID-19 was done at the Multi-Purpose Gym Tuana'imato, Samoa Red Cross Tuana'imato, the STA Fale and the EPI Tent
SOURCE: SAMOA OBSERVER/PACNEWS