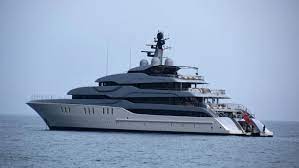 Maritime Cook Islands has confirmed a Cook Islands-registered yacht linked to a Russian oligarch has been sanctioned by the Treasury of the United States.
The sanction, reported by an American political website the Hill.com, included an Aruba-registered jet and a Cook Islands-registered yacht, both worth around US$90 million, belonging to Russian oligarch Viktor Vekselberg with an estimated net worth exceeding US$6 billion
The moves come as foreign governments target Russian oligarchs in the wake of Russia's conflict with Ukraine.
A spokesman for Maritime Cook Islands said the organisation was "working through this with Ministry of Foreign Affairs and Immigration and Ministry of Transport".
"We have no further comment at this stage," he said.
Last week, Maritime Cook Islands told Cook Islands News that none of the 33 Russian-owned Cook Islands-registered yachts were owned by oligarchs or sanctioned individuals.
The spokesman also said the "the Cook Islands will not be used as a refuge for owners who are fleeing other flags in an attempt to circumvent sanctions".
"We have however agreed not to remove the existing owners from the flag, at least at this stage," Maritime Cook Islands last week said.
On Monday, the Cook Islands News approached the Financial Supervisory Commission about whether they would impose sanctions on Russian-based trust accounts based in the Cook Islands.
In response, deputy commissioner Margaret Tangimetua said "formal sanctions on Russia in response to the Ukraine invasion, by the Cook Islands, would require legislation to be passed to do so".
"However, the majority of those operating in the international financial sector (including trustee companies) adhere to the OFAC Sanctions (US Treasury Sanctions) and any possible sanctioned individuals would be captured by this," she said…. PACNEWS
SOURCE: COOK ISLANDS NEWS/PACNEWS