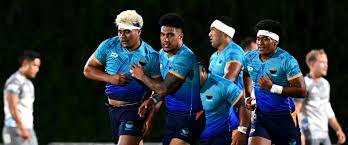 Moana Pasifika will finally kick-off their highly anticipated Super Rugby debut this Friday against the Canterbury Crusaders at Forsyth Barr Stadium in Dunedin.
It follows a dramatic non-start to their season, with two of Moana Pasifika's opening games postponed after several players tested positive for Covid.
"It's a huge mental battle to get up for the excitement to play and then be denied for different reasons," said Moana Pasifika halfback Ereatara Enari.
The entire team including the management were forced to spend a mandatory ten days in self-isolation at a hotel in Queenstown.
It disrupted training times and the team has had to overcome the unexpected challenge of recovering their bodies from the inactivity of confinement in self-isolation.
"It's been a big process of making sure our bodies are healthy, coming out of isolation, weaning ourselves back into training so that we are game ready by Friday," Enari said.
"That isolation period of not running for ten days takes a toll and just being able to slowly bring ourselves back into performance mode," he added.
Apart from the physical challenges were the emotional challenges.
Moana Pasifika assistant coach Filo Tiatia said that the team would likely be based in Queenstown for training for a few more weeks which means that the team had less family time than the other Super Rugby teams.
"We've made a decision with our board and CEO that we will be in Queenstown for another few more weeks," Tiatia said.
"Safety is paramount. There's no doubt that there are challenges that go with that, in staying longer. I'm a father with five children myself…so we've got a lot of loved ones that we are not together with.
"At times it's not easy but they do realise why we have to stay here longer."
"I've been in touch with other teams and told them don't get affected by Covid because it's just another challenge you don't need, but it's one that we've accepted and adapted to."
"Just getting to the starting line is a success for us."
The team were supposed to kick-off of their Super Rugby debut against the Blues two weeks ago, but it is now the Canterbury Crusaders who will have the honour of participating in the historic opener.
They are the heavy favourites and enter Round 3 on a high, having scored decisive victories over the Wellington Hurricanes 42 – 32 and Auckland Blues 34 – 19.
"We're just starting and we are under no illusions as to how challenging it's going to be. The reality is that we can only put our best foot forward and keep learning and keep growing," said Filo Tiatia.
"Just getting to the starting line is a success for us. We saw Drua when they debuted and it was a very proud moment for our people, and this will be no different for us this Friday."
Tiatia's sentiment reflects the gap in competition needed to be closed by Moana Pasifika who are under the pressure of pleasing their Pacific Island fan base.
To defeat the Crusaders, the team would need to drastically improve from a devastating 62 – 7 defeat suffered at the hands of the Waikato Chiefs in a warm-up game a month ago.
"We got a lot of young athletes that are still learning their craft…there's a few players that will be making their Super Rugby debut.
"It sort of still reminds me of mine back in 1996, playing against the Blues for the Hurricanes, so I can understand some of the anxiety and excitement that these players are having."
"We're building a game and it'll get tested on Friday night, and we'll be able to see where we are at, and we just keep improving and growing from there," he said.
SOURCE: RNZ PACIFIC