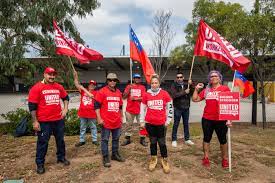 Samoan farmworkers in Australia were pressured to quit a union by a senior Samoan government official who warned them not to defy him because the order came from their government at home.
The comments by Samoa's labour attache to Australia involved potentially significant breaches of Australian and international labour law. It is a breach of the Fair Work Act to coerce workers to quit or join a union.
In comments to workers in north Queensland last month, Samoan government official Aufa'i Fulisiailagitele Saleuesile said, "white people" were in unions, and that some unions "just came to ruin" and "to look for destruction". His comments were recorded and leaked to The Age and The Sydney Morning Herald.
"The white people, who are in these unions, there are some unions that their performance is not good on the job, there are some unions who just came to ruin, come to look for destruction, seeking the bad," he told the workers, who are in Australia on the Pacific seasonal workers' programme.
"Leave the union you joined … leave immediately. If the union asked why you are leaving, tell them the government of Samoa said to leave."
The comments by Saleuesile, made in Samoan language, have been checked and translated by two translators. They will put further scrutiny on Australia's seasonal worker programme and, more broadly, issues of worker mistreatment on Australian farms, where underpayment and exploitation have been rife.
Saleuesile told the workers that joining a union would affect their relationship with the labour-hire company that employed them. He warned workers "not to test me". He was acting on the orders of the Samoan government, he said, adding, "there's only one door that you came in, and it'll be the same door that you will exit".
Samoan workers have only in the past year started participating in large numbers in the seasonal workers' programme, which brings in farmworkers from the Pacific and Timor-Leste to Australia. Last December the federal government said it would double the number of workers from the Pacific in Australia, predicting that by March this year there would be an extra 12,500 people working in industries such as agriculture, hospitality and aged care.
Besides the meeting in north Queensland last month, The Age and Herald have spoken to Samoan workers in Tasmania and on another farm in Queensland, who were delivered a similar message by Saleuesile to quit the United Workers Union (UWU).
Saleuesile said in a statement that the "Samoan Ministry of Commerce, Industry and Labour and the Minister were considering questions from The Age and Herald and "it is under review".
"A full response to your questions will have to wait until the internal processes are exhausted." Saleuesile said the Samoan ministry recognised the role of unions in "the protection and promotion of employees' interests".
One worker from a Tasmanian berry farm, who could not be identified as they feared being deported, said many of his Samoan colleagues were left idle for weeks and not engaged for the 30 hours per week promised in their contracts. Many had fallen behind on their rent, the worker said.
"I felt we should be all treated equally," the worker said. "We had really high hopes for coming to work in Australia because we were told we would be paid hourly at a rate that would give us a lot of money to help our family and our home. Most of us have children we send to school, and also to help with the church and village."
Saleuesile spoke to workers via Zoom last year and told them not to join the union.
"In the end Aufa'i didn't help us, so that's why we reached out to the union," the source said.
The worker said he was "afraid because we were told he was the liaison officer for us, and we should listen to him and respect what they should do."
Another worker in Queensland, who also could not be identified for fear of deportation, said Saleuesile told workers the Samoan government "doesn't allow you to join the union."
The meeting where he allegedly said this was arranged by a labour-hire firm. "I have no idea what he's doing here. Maybe he's so sweet to the company and will try to stop us from joining the union," the worker said.
UWU national secretary Tim Kennedy has written to both the Samoan government and Australia's department of foreign affairs and trade to say the union is "appalled" by the bullying and threatening of Samoan workers.
"Saleuesile's unlawful campaign of intimidation is designed to silence Samoan seasonal workers and prevent them from joining the union and raising legitimate and serious concerns about their wages and conditions," he said.
Kennedy said the union regarded the conduct as in breach of the Fair Work Act and an ILO convention on freedom of association, which Samoa had ratified. The union "will take whatever actions are necessary to enforce members' workplace rights," he added.
Noah Fasa, a warehouse worker who moved to Australia from Samoa seven years ago, said he and others were supporting the farmworkers. "The union is for everyone, not just for white people," he said. "I would suggest to the government to look for a solution before we lose this opportunity for our people."
He said life was tough in Samoa, explaining that when he last worked there, in 2013, he was earning just $2.50 (US$1.80) an hour. Working in Australia and earning a good wage would help the country, he said. Industrial relations minister Michaelia Cash did not respond to requests for comment.
A recent Senate inquiry heard allegations that Samoan workers employed through the seasonal programme were also pressured not to join any unions. One worker said he was paid $300 (US$127) net for a 73-hour week. Another worker, Koneferenisi Maiava, said he earned only $100 (US$72) for working more than 70 hours in a week.
SOURCE: SMH/PACNEWS