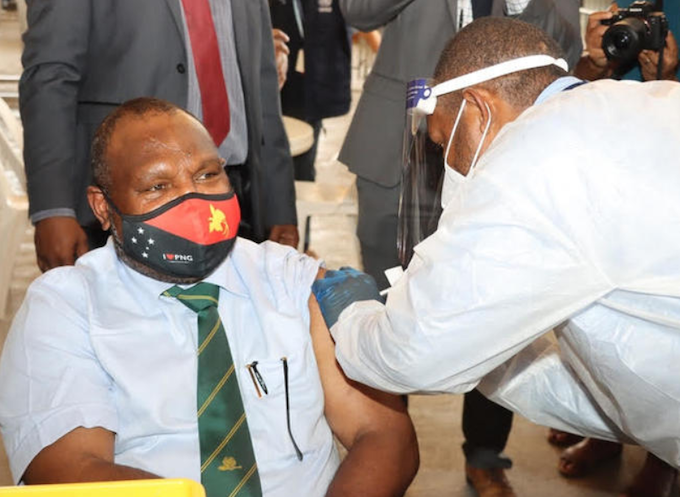 Papua New Guinea Prime Minister James Marape has again raised his concern over the country's very Covid-19 vaccination rate of 4.6 percent, telling health officials and partners to work on increasing it urgently.
A Health Department report shows that only 5.8 percent (295,610) of the population of more than eight million people have received the first dose and just 4.6 percent (234,710) are fully vaccinated.
He told chief executive officers of the provincial health authorities, Covid-19 taskforce, health department and partners attending a week-long workshop in Port Moresby on the vaccine rollout in the provinces to step up the vaccination drive.
Marape pointed out that the 2022 general election, which begins with the issue of writs next month, will be held in the middle of the pandemic.
He demanded a better coordination and close working relationship between the Health Department, National Control Centre, churches and the health authorities to get more people vaccinated.
He also praised the efforts put in by healthcare workers in the provinces to battle the pandemic.
"I thank the professional input and hard work by our doctors and nurses, community health workers and others," he said.
"There is much more we can do for public healthcare and I ask you all to work with the Health Department and our multilateral and bilateral partners."
Marape said despite the Government's biggest monetary allocations to the key sectors including health, constraints remained the biggest worry.
Meanwhile, the National Control Centre reported that as of last Sunday, the total Covid-19 cases recorded in the country was 41,290 including 638 deaths.
It updated vaccination figures as well – 250,256 have been fully vaccinated while 310,659 have received one dose of the vaccine.
SOURCE: THE NATIONAL/PACNEWS