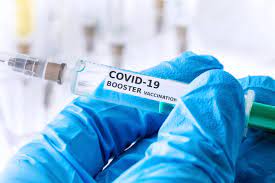 Fiji's Ministry of Health and Medical Services has rolled out the COVID-19 booster dose for a specific target population in the country.
According to the Government, the Moderna COVID-19 vaccine has been authorised for use as the booster dose by stringent regulatory authorities with more than 30 countries (U.S, UK, Israel, Singapore and France) administering the dose.
"A booster dose will ensure the protection against COVID-19 is even stronger, longer-lasting, and help prevent the spread of the virus. An individual can receive the COVID-19 booster dose if he/she has received their initial two doses of the COVID-19 vaccines at least five months ago, that is, before July 1, 2021," the Government stated.
The target groups eligible to receive the booster dose are the frontline workers, persons aged 60 years and over, and persons under 60 years who have medical conditions like diabetes, hypertension, heart disease, kidney disease, cancer and others, confirmed by a medical doctor at a health facility.
"When presenting for the booster dose, individuals under 60 years with any of the medical conditions above are requested to bring along their Vaccination Card and their SOPD Card or a letter from their treating doctor confirming the presence of the medical condition.
"Eligible individuals who are not able to go to a vaccination site for the booster dose can contact the toll-free line 158 to register for home vaccination.".
Meanwhile, Fiji's Ministry of Health and Medical Services says that the discovery of Omicron is a sharp reminder to all Fijians that the key to avoiding future restrictions and lockdowns is for all to remain cautious about how they engage in the greater freedom they will enjoy.
Ministry permanent secretary Dr James Fong said while the easing of restrictions was needed to facilitate livelihoods, "we must ensure that together with vaccination, we continue to observe our COVID safe measures and avoid contained spaces and crowds".
Dr Fong he remained "extremely concerned" at the lack of adherence to COVID safe measures in gatherings throughout the country, especially the adherence to masking in indoor public spaces.
He said after the Delta outbreak this year, it was understandable that many would feel the urge to relax and celebrate now that case numbers were low, especially during the festive season.
"And many of us have let our guards slip," Dr Fong said.
"We are all human. But this must stop as vaccination and COVID safe measures are the only way to safely navigate our way through the pandemic while facilitating socioeconomic recovery and well-being," he said.
SOURCE: FIJI TIMES/PACNEWS