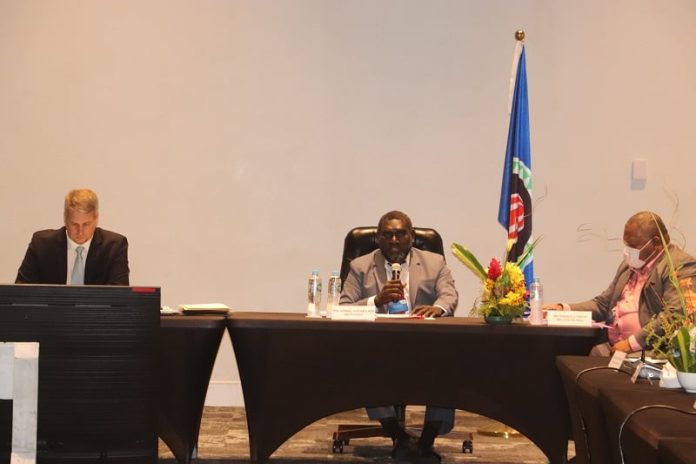 Bougainville President Ishmael Toroama says matters before the joint supervisory body (JSB) meeting on Friday in Port Moresby are matters that have been part of the Autonomous Bougainville Government (ABG) since 2005.
"In the last 16 years, we have achieved only a fraction of our objectives to ensure the autonomous arrangement on Bougainville is practical through tangible development with the ABG empowered to effectively serve the interests of the people," Toroama said.
"Given the political timeframe of the Wabag roadmap, we cannot procrastinate any longer.
"There has to be a sense of urgency to ensure these matters are addressed.
"My people's rejection of autonomy during the referendum can be directly attributed to the slow and tedious process involved in operationalising Bougainville's autonomous arrangements."
He said people had seen first-hand the slow progress by the national government to empower the Bougainville government's socio-economic and political capacities.
Many who view this slow progress as sanctions intentionally levelled against Bougainville and often likened to the economic sanctions by the national government during the 10-year Bougainville crisis, he said.
"Prime Minister (James Marape), the failure to exploit the full potential of Bougainville's autonomy arrangements has created a scenario where Bougainville continues to remain dependent on the national government," Toroama said.
"This dependency syndrome induced by the national government has rendered autonomy virtually impotent on Bougainville.
"While this may be intentional or not, it questions the commitment of the national government to the implementation of the Bougainville Peace Agreement.
"Past JSB records will show that issues such as the outstanding restoration and development grant, fishing revenue and tax remittance are supposed to have been progressed well beyond their current state," Toroama said.
"However, national government agencies continue to make it difficult for the ABG to access the support it requires.
"As leaders, we need to work together to provide the political context to the officials to understand the spirit and intention of the Bougainville Peace Agreement (BPA).
"I believe our commitment to the BPA should be reciprocated in good faith by the national government.
"Ministers and Government agencies must make an effort to ensure the resolutions of the JSB meetings are carried out instead of prolonging the process as we have experienced in the last 16 years.
"The joint consultations have outlined a timeline for Bougainville's political settlement.
"This means we must start putting deadlines on these unresolved JSB matters.
"We have more pressing matters to discuss in the joint consultations instead of wasting time and resources on these perennial matters that should have been resolved long ago," he said.
SOURCE: THE NATIONAL/PACNEWS