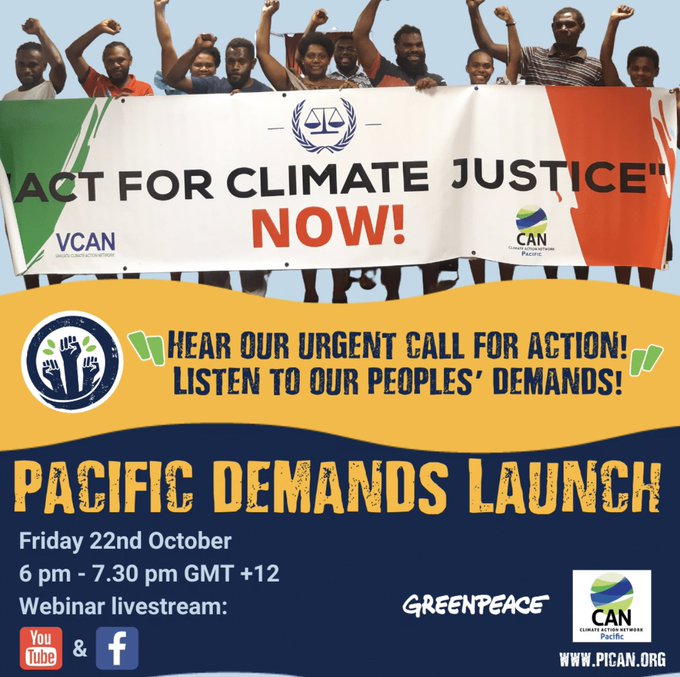 The Pacific Climate Action Network (PICAN) in partnership with Greenpeace Australia Pacific is launching Pacific COP26 Climate Demands on Friday 22 October 2021 in the lead up to the UN Climate Summit in Glasgow.
Through an intensive consultation, engagement, and collaboration with civil society organisations (CSOs), non-governmental organisations (NGOs) and movements from across the Pacific Island countries, PICAN has developed a set of critical demands to ensure that the COP26 delivers sustainable, just, and inclusive outcomes for the Blue Pacific.
The Pacific Climate Demands recognises that people and communities of the Blue Pacific are living in a climate emergency, a crisis that, sadly, continues to be ignored by many countries, including those nearest to the Pacific Islands. The Pacific is demanding urgent & accelerated climate action;ambitious climate targets & plans (National Determined Contributions) that puts the world on a pathway to achieving the 1.5º Celsius target, and robust and accessible climate finance to build resilient Pacific communities.
"The Pacific is already knee deep, experiencing irreversible climate induced loss and damage, and the Pacific communities are demanding for urgent and accelerated climate action now – not in another twenty or thirty years. We are demanding that parties, especially the developed nations to come to COP 26 with concrete plans on closing the emissions gap and bring the world to a pathway to achieve the Paris target of limiting global warming to well below 1.5 degrees, said Lavetanalagi Seru from the Pacific Islands Climate Action Network.
The Pacific is already in the grip of a climate disaster and only deep, rapid emissions cuts including the complete phase-out of climate-destroying coal, oil and gas and an immediate end to fossil fuel subsidies will provide a fighting chance of a safe and habitable future for the Pacific islands," Greenpeace Australia Pacific Acting Head of Pacific Steph Hodgins-May said, adding there was no more time for excuses and history would judge world leaders on their actions at COP26.
"Australia should pay its fair share of climate finance to help our neighbours tackle climate change. The UK, USA, Canada,and NZ made bold new commitments. A commitment of US$3 billion over five years would be a good start for Australia.
The Climate Justice Demands launching event will feature prominent Pacific Leaders, including the Anote Tong(Former President of Kiribati), Dame Meg Taylor (Former Pacific Islands Forum Secretary General), Emeline Siale Ilolahia (Executive Director of the Pacific Islands Association of NGO's), Nikolas Casule (Head of Investigations & Research at Greenpeace Australia Pacific), Raijeli Nicole (Regional Director of Oxfam in the Pacific), and Hon Bikenibeu Paeniu(Tuvalu's Former Prime Minister and representative for Tuvalu Climate Action Network). The keynote address will be delivered by the UK High Commissioner to Fiji,George Edgar.
PICAN is an informal Network linking civil society organisations working on climate change. Since 2013, it has brought together civil society actors across the Pacific Island countries, advocating for climate justice and environmental integrity. PICAN aims to unite civil society under a common voice to increase the influence and impact of their advocacy demands on Pacific Island governments, leading non-Pacific governments to respond with more powerful and ambitious climate change policies and action at the national and regional level. As part of CAN, the worldwide network of over 1,500 Non-Governmental Organisations (NGOs) across the world, PICAN works to ensure the Pacific Island civil society is represented at the international level.
Visit us at www.PICAN.org to know more about and support the incredible work of Pacific Island civil society or email us on canpacificislands@gmail.com
SOURCE: PICAN/PACNEWS