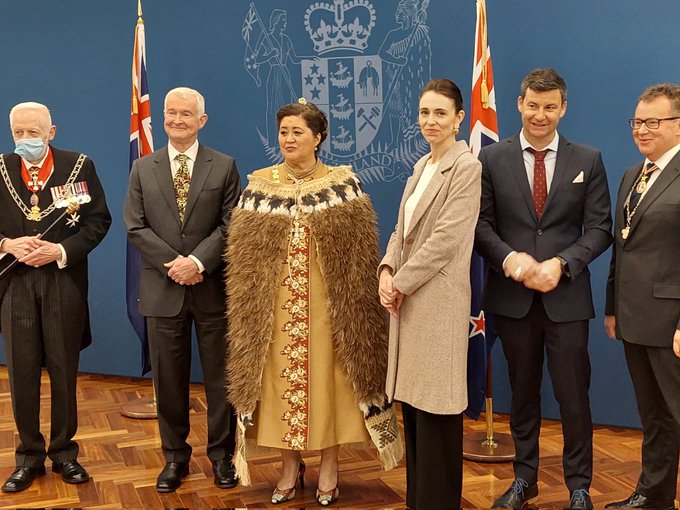 Dame Cindy Kiro was sworn in as New Zealand's newest Govenor-General Thursday at Parliament, the first wahine Māori to hold the role.
Speaking to a limited audience due to Covid restrictions, Dame Cindy pledged to reach people marginalised in New Zealand in her new role as New Zealand's 22nd Governor-General.
Prime Minister Jacinda Ardern, Opposition leader Judith Collins, MPs from across the House and officials watched as Dame Cindy took the role as representative of the Queen.
About 35 people lined the front of Parliament protesting Covid restrictions and vaccinations, as Dame Cindy walked up a red carpet placed on the the steps of Parliament, draped in a korowai.
In a speech delivered at the ceremony, she said the appointment was an honour and a privilege.
"We are living through a period of immense uncertainty and anxiety, and I wish to acknowledge those in Auckland, and around the country, who continue to face the disruptions caused by Covid-19.
"I know the challenges we're facing can often feel bewildering and overwhelming – but we've shown what is possible when we choose to be guided by wisdom, courage, and a sense of care for one another," she said.
Dame Cindy spoke her dual Ngāpuhi and British heritage and what that could bring to New Zealand's "ongoing dialogue on Te Tiriti o Waitangi".
"The Treaty relationship has been tested in our struggle to build mutual respect – but we continue to make progress, and I understand what an important role the Governor-General has to play in that task," she said.
Ngā Puawai Ō Ngāpuhi was sung in Parliament's Legislative Council Chamber.
Ardern welcomed Dame Cindy into the role during her speech, saying she would be a picture of inspiration for many.
"We are very lucky to have you," Ardern said.
She said Dame Cindy came from a life of hardwork, and was the "portrait of every New Zealander".
Te Paati Māori co-leader Rawiri Waititi said he was "really, really proud of Dame Cindy Kiro's appointment".
"We're really proud of her up there in Te Atatū Peninsula to have one of our very own in that particular position.
"Everybody knows I'm more of a republican and not a loyalist to the Crown, whilst that is the way this country operates, I'm still proud of Cindy's appointment today, and really proud she represents us in that position.
Dame Cindy acknowledged how she valued evidence-based thinking, coming from a background in academia.
"It has never been more important to critically evaluate the constant flood of information across our screens – and to value the ability of expert communicators, who can help to alleviate our uncertainties and fears."
Dame Cindy said she would do what she can, as Governor-General, to strengthen the country's communities in meeting "these challenges of our time".
"Communities develop resilience when people feel connected; a sense of belonging; a place to stand.
"I will connect with new migrants and former refugees, and celebrate the diverse cultures and religions gifted to our nation by all those who have chosen to make New Zealand their home.
"I will reach out to those marginalised in our society, whether because of disability, homelessness, discrimination, addiction, or mental health issues," Dame Cindy said.
Dame Cindy said she would also seek opportunities to interact with young people whenever and wherever she could.
"I will listen to their hopes and dreams, and encourage them to pursue their passions. And I will support organisations dedicated to contributing to their physical, social, and cultural wellbeing."
Dame Cindy was announced as the next Governor-General by Prime Minister Jacinda Ardern in May.
Ardern said at the time that Dame Cindy "has a highly distinguished and lengthy career in academic and leadership positions and has made significant contributions across a number of fields and organisations".
Dame Cindy is the first wahine Māori to hold the role and replaces Dame Patsy Reddy.
"On behalf of all New Zealanders, I thank Dame Patsy and Sir David for their service over these past five years," she said.
Dame Cindy was most recently Chief Executive of the Royal Society – Te Apārangi, which advances research and scholarly activity in science, technology and the humanities and raises public understanding of those fields.
She was previously the Children's Commissioner, had leadership roles at several New Zealand universities, including Pro Vice-chancellor Māori at the University of Auckland, extensive health sector experience, and a number of roles in community and voluntary organisations.
She had her first audience with the Queen this week.
SOURCE: TVNZ/PACNEWS