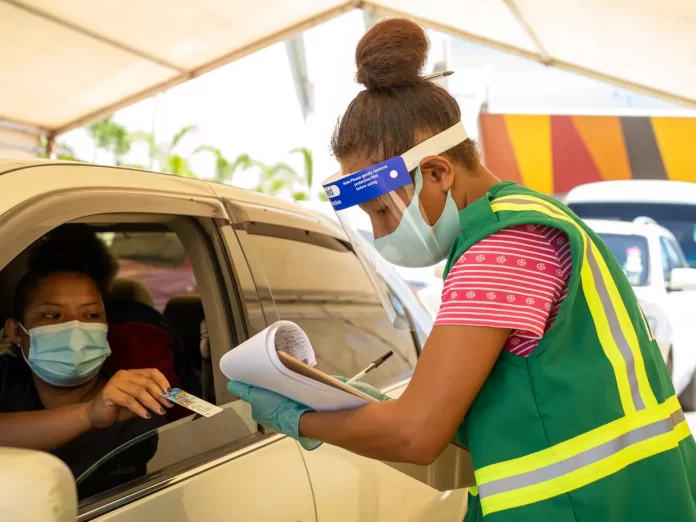 Ten provinces in Papua New Guinea have been classified as "high-risk", requiring that they implement measures which suits them best to address the Covid-19 surge.
They are Morobe, Chimbu, Enga, Hela, Jiwaka, Southern Highlands, Western, West Sepik, Western Highlands and Eastern Highlands.
National Pandemic Response Controller David Manning told The National that the 10 provinces would have to submit to his office what they wanted to implement.
"The high-risk provinces, in line with the measures released a few weeks ago, are to have their own measures to respond to the Covid-19," he said. "The measures must be submitted to (my) office and to the National Control Centre (NCC) for their consideration."
Manning said it meant strict travel requirements to the provinces.
"No person is to travel into and out of the provinces except those who are fully vaccinated, have a valid reason to travel, and have approval from the provincial administrator," he said.
"In the case of the 10 provinces, an immediate ban is placed on all public gatherings.
"People may still go to shops and markets but they must be there only to shop, not to socialise or stay longer than required. They must comply with the 'Niupla Pasin' guidelines."
He said religious gatherings must be limited to 50 people.
Nightclubs and pubs must be closed.
Recreational or professional sports are banned.
Meanwhile, the PNG Government has promised frontline workers in the health and police departments that they will be covered under an insurance plan.
Prime Minister James Marape said the plan was to ensure that frontline workers' families would be compensated "should anything happen to (the workers) while they are fighting" the Covid-19.
"The Government is looking at insuring the health workers and police officers in the frontline who have received the vaccine. (They) will be insured," Marape said.
"If anything happens, (they) will be insured.
"Those working in the frontline and vaccinated, we will be looking at an insurance programme (for them).
"They are our defenders."
He also assured those working in the districts that the Government would provide them resources "so you can give (your full) attention to fighting the Covid-19".
Marape said Finance Minister Sir John Pundari had been advised to make sure that the district resources would be able to meet the health care of our people.
In another development, 20 Covid-19 bodies are passed on to the Goroka Hospital mortuary each day, according to a morgue attendant.
"During the day, five to six dead bodies are brought in from the districts but, at night – midnight, 1am and 2am – 15-16 bodies are brought in every single day," Jobby Naewa Quinn said.
"People hear and count deaths of prominent people in the province, but think of the many people in settlements, villages and communities dying in districts, there are too many deaths.
"If only we can practice the 'New Normal' and stay safe, this will be the only way we can stop the Covid-19 in Eastern Highlands, otherwise, during the day, the lowest (number of) bodies coming in would be five, but in the night, we are seeing 15 or 16 bodies coming in."
Quinn said people were "just falling down like flies".
"During nights, bodies are picked up at locations such as Kakaruk market, Masi village, Genoka Block," he said.
"People shout at them telling them they are lying.
"Just come make your way to the hospital morgue site and see for yourself, you will know if it's real, sick or a false sick – you will know."
Quinn said many were saying that the Covid-19 deaths were for big people.
"Relatives and family members of these little people are not claiming their bodies and they are left there for too long," he said.
"We are trying to see Governor Peter Numu to find land for mass burial of these unclaimed bodies.
"The morgue is full to the brim.
"We need a new morgue," he said.
SOURCE: THE NATIONAL/PACNEWS