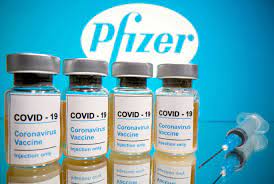 Fiji's Ministry of Health and Medical Services is expecting the Pfizer vaccine, earmarked to be administered on children aged 12 to 14, to arrive into the country by Monday.
Minister for Health and Medical Services, Dr Ifereimi Waqainabete, confirmed the proposed arrival date of the 100,000 doses while visiting the Western Division with Prime Minister Voreqe Bainimarama Wednesday.
Dr Waqainabete said the Pfizer vaccine was likely to arrive on 18 October and he expected this to be administered to children aged 12 to 14 from 15 November.
"We are grateful the New Zealand Government is supporting us with Pfizer and obviously the indications are we could receive it as early as next week," he said.
"Our officials are in discussion with them and given that we are currently mopping up the adult vaccination because we need to get the other 16 and 17 per cent that are left and who haven't been fully vaccinated and the other three or four per cent to try and also get them to be vaccinated once or twice and also the completion of the first dose and second dose for those between 15 and 17, we thought that it might be best to begin the vaccinations next month for 12 to 14-year-olds.
"As alluded by the Prime Minister and also just reiterating what he had just said that vaccination for our children is not nugatory, but certainly it is protective, we know that.
"Countries such as ours have community plans, especially for COVID-19; the vaccination of children is protective to them."
He said Fiji has so far lost at least eight or nine children aged from two months to 19 years old to COVID-19.
"Apart from that, we had a couple of thousands who were sick so it is important that we encourage our children to come forward," Dr Waqainabete said.
"It has been encouraging in the last day and a half to go around and see parents come with their children to be vaccinated.
"The way to protect children going to school is to ensure that everyone who is eligible to be vaccinated around them are vaccinated."
Dr Waqainabete added the target population for children receiving Pfizer was a little more than 45,000, similarly to children aged from 15 to 17 who have received the Moderna vaccine.
SOURCE: FIJI SUN/PACNEWS