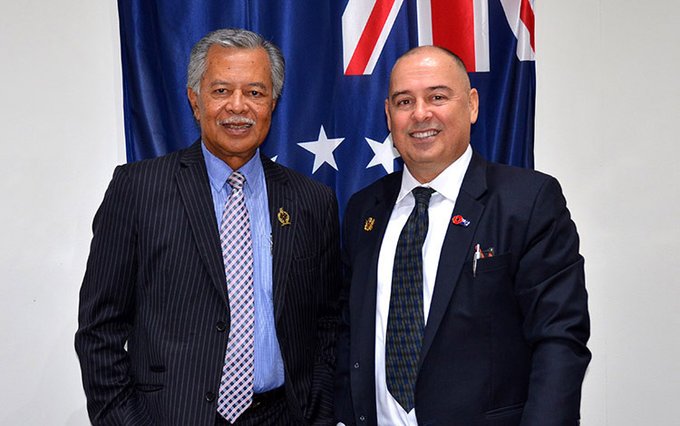 A case involving Prime Minister Mark Brown and Pacific Forum Secretary General Henry Puna was dismissed in March this year by a High Court judge, but could be brought back to life as lawyer Norman George and Paul Allsworth of Citizens Against Corruption (CAC) apply to appeal the matter.
Chief Justice Sir Hugh Williams QC in March dismissed charges levelled against Prime Minister Mark Brown and former prime minister Henry Puna, who is now the Pacific Islands Forum Secretary-General, in a private prosecution.
On 19 March, Brown and Puna were acquitted of all charges of fraud and improper payment of public money in relation to the 2018 charter flights to Penrhyn and Pukapuka.
On Tuesday last week, the private prosecution team headed by Paul Allsworth of Citizens Against Corruption and represented by lawyer Norman George applied for appeal.
A Ministry of Justice spokesperson said: "The application is still pending approval but is not sure if the matter will go ahead".
Cook Islands News reached out to both Allsworth and George but they wished not to comment on the matter.
Allsworth, who was disappointed with the ruling in March, then said they were going to evaluate the Chief Justice's judgement and make a determination on how they proceed.
"This trial was always going to be a difficult one and a massive undertaking for a number of reasons. This is the first private prosecution in the Cook Islands ever, that in itself, I believe, is an important milestone and sets a precedent for others who feel aggrieved," Allsworth said in March.
Brown and Puna were represented by prominent New Zealand lawyer Kieran Raftery QC alongside lawyers Tim Arnold for Brown and Ben Marshall for Puna.
After the trial PM Brown said both his and Puna's names were dragged "through the mud". He said this was a "smear campaign" aimed at them and their families, adding his wife and children have gone through difficult times.
At the time he said: "I am pleased its finished and we can go forward, said PM Brown.
SOURCE: COOK ISLANDS NEWS/PACNEWS