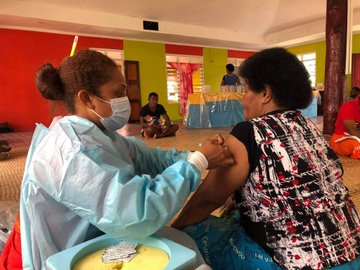 Fiji has recorded 22 new cases of COVID-19 Monday, increasing the total number of cases to 51,154 and 632 deaths since the outbreak in April.
Permanent secretary for Health, Dr James Fong said there have been 3,941 new recoveries to report since the last update, which means that there are now 8,898 active cases.
"There have been 51,154 cases during the outbreak that started in April 2021. We have recorded a total of 51,224 cases in Fiji since the first case was reported in March 2020, with 41,189 recoveries," he said.
Dr Fong said one new COVID-19 death has been reported from the Central division.
"There have been 10 more deaths of COVID-19 positive patients. However, these deaths have been classified as non-COVID deaths by their doctors. The doctors have determined that these deaths were caused by a serious pre-existing medical condition and not COVID-19.
"There have now been 634 deaths due to COVID-19 in Fiji, with 632 of these deaths during the outbreak that started in April this year. As of 29 September, the national seven days rolling average of COVID-19 deaths per day is 0.6. The seven days rolling average for COVID-19 deaths per day in the Central division is 0 and 0.6 in the Western division.
"We have also recorded 503 COVID-19 positive patients who died from the serious medical conditions that they had before they contracted COVID-19; these are not classified as COVID-19 deaths," Dr Fong explained.
He said there are currently 74 COVID-19 patients admitted to hospitals in Fiji.
"37 patients are admitted at the Lautoka Hospital and 37 are admitted at CWM hospital, St Giles, and Makoi.
"Eight patients are considered to be in severe condition, and seven are in critical condition," said Dr Fong.
The national seven-day average daily test positivity is six percent, which is on a downward trend, but it still is indicating a high level of community transmission, he said.
As of 03 October, 593,442 adults in Fiji have received their first dose of the vaccine and 462,441 have received their second doses.
"Based on our updated total population of 618,173 people aged 18 years and over (adults), the vaccination coverage rates are 96 percent for adults who have received at least one dose, and 74.8 percent are now fully vaccinated nationwide.
"As for children, 17,996 children in Fiji have received their first dose of the vaccine as of 24/09/2021. We will be tracking our vaccine coverage rates once we have firmed up our 15 to 17-year-olds age group denominator," said Dr Fong.
Meanwhile, Fijian Prime Minister Voreqe Bainimarama is urging villagers in the maritime islands to get vaccinated.
This comes as the vaccination rate in the islands is slow.
Speaking on the Radio Fiji One's Nai Lalakai programme, Bainimarama said maritime islanders can only be reunited with their families in Viti Levu if they are fully jabbed.
"Vaccination turnout in maritime villages is really low. We should get the two jabs to help ease movement restrictions and also keep everyone safe from the virus."
Bainimarama said moving around the country will be a challenge for those who refuse to get the jab and they will miss out on a lot of opportunities.
In another development, Health Ministry staff who have been involved in COVID-19 operations, will not have much rest.
The ministry is now preparing its staff for the new cyclone season which starts next month.
Minister responsible, Dr Ifereimi Waqainabete said some staff that have been working tirelessly throughout the COVID-19 operations are currently taking a break.
"For example FEMAT decamped two weeks ago so we're able to give some of our staff rest and they thoroughly deserve their rest. Whilst in the process looking forward to how we going to respond to the cyclone season. We've encouraged the divisions to be able to meet with the commissioners and discuss with them as we prepare for the cyclone season. Which includes obviously the COVID-19 protocols," said Dr Waqainabete.
SOURCE: PACNEWS/FBC NEWS