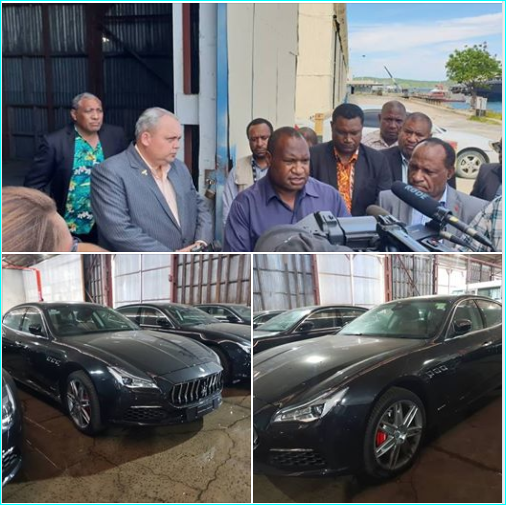 The Papua New Guinea Government has admitted that the purchase of the controversial Maseratis vehicles for use by the 2018 APEC Leaders was a "terrible mistake".
Finance Minister Sir John Pundari made the admission Thursday when announcing that the 40 luxury vehicles, bought for K20 million(US$5.7 million) at K500,000(US$142,000) each would be put on the market for a "discount price" of K400,000(US$114,000).
This price tag comes despite the government struggling for the last three years to dispose these cars that were at the outset of their purchase, predicted by then APEC Minister Justin Tkatchenko to be sold off like "hot cakes" post APEC.
The sad reality is that these alleged 'hot cakes' on wheels remain undisposed and idle, sitting in a warehouse in Port Moresby, in all their grandeur.
Sir John Pundari said the purchase of these high-end vehicles was a mistake as PNG currently does not have dealers to maintain them in the country.
"If we had any foresight, the Maseratis would not have been purchased in the first place. We made a terrible mistake," he told reporters.
"If you have got no dealers of Maseratis in PNG, there was no reason to buy Maseratis, why buy the V8s as well.
"If you had V8s you would have easily transferred the VIPs that came to the APEC Meeting from one point to another. I just don't know the reasons we went down the path of purchasing Maseratis and now we are caught up with this dilemma."
The government has also offered some of these vehicles to PNG's diplomatic missions but they are reluctant to accept them because of the high maintenance costs.
"We are following the decision of the Cabinet, we made those Maseratis available for foreign missions, some have come back, some have not come back because the maintenance of these Maseratis would be in the foreign mission," Sir John said.
"Foreign Missions are deciding whether they take these Maseratis or not and the remaining ones will be disposed."
Finance Secretary Dr Ken Ngangan in support of Sir John said only two of the Maseratis and a Bentley had already been disposed of while the rest were still in the warehouse.
"We will dispose them here- we have done that several times here, and probably we will do that again – we will put on public tender and probably dispose of the remaining ones, once the missions come back to us," Dr Ngangan said.
He said there had been some offers made but no one had turned up with "concrete kina or dollars" to purchase them.
Sir John said the exercise announce was a result of a Paper he sponsored to Cabinet.
He said he was grateful for the Cabinet's approval for some of the cars to be donated to the foreign missions where there are dealers to maintain them.
Meanwhile, Sir John has called on Papua New Guineans who are still holding onto the 102 APEC vehicles to return them as soon as possible.
A disappointed Sir John, flanked by Finance Secretary Dr Ken Ngangan and Police Commissioner David Manning, said the ultimatum notice in newspapers to recall a total of 102 APEC vehicles which are in the hands of unauthorised persons had lapsed, and those involved would now face the full force of the law.
"Now as the seven-day ultimatum period lapsed on 16 September and to date, no person has surrendered the APEC vehicles.
"The Finance Department has requested engagement of police, RTA and MVIL to establish a collective task force to recoup all outstanding APEC vehicles.
The designated officers from Finance Department, Motor Police – Boroko, NCD Traffic Police, RTA – Road Traffic Enforcement Teams and MVIL are all ready to execute the recovery of the missing APEC vehicles.
The recovery task force team will execute the recovery soon after the meeting Thursday.
The Finance Department with support from RPNGC, has issued a seven-day ultimatum notice on newspapers to recall a total of 102 APEC vehicles which are in the hands of unauthorised persons.
"Consistent with the requirements of the PFMA and the NPA, all APEC assets including liabilities were assumed by Department of Finance.
The Department of Finance has already taken full stock of those assets and is progressively preparing to dispose all those assets through public tender.
The disposal of State assets is a financial management process under the Public Finance Management Act (PFMA) and the National Procurement Act (NPA).
It is by law that the Department of Finance is now the legitimate custodian of all APEC assets including the vehicles.
He said there are two phases in this disposal exercise – disposal of all 166 donated APEC vehicles, which was completed in June.
"Our donor partners agreed that donated fleets be allocated to schools, hospitals, churches/NGOs, government departments and other important charitable institutions.
As far as our record is concerned, we have disposed 166 donated vehicles.
Donated vehicles were collectively fire trucks, ambulances and buses," he said.
The disposal of 326 State purchased APEC vehicles and a total of 119 low-end State Purchased APEC vehicles have already been allocated and distributed to various government departments (Public and Statutory Bodies, District and Provincial Governments, and SOEs) utilised for their administrative purposes.
"Finance Department is in the process of disposing the remaining.
Some of these fleets are now with agencies and individuals and they have been advised to bring back for disposal.
For instance, more than 15 vehicles are now utilised on COVID-19 operations by Health, Police, and Defence on temporary basis, and about 98 vehicles are in the hands of unauthorised individuals," he said.
The NEC, in Decision # 5112021, has directed the Finance Department to immediately dispose all remaining stocks of APEC vehicles and put to rest the prolonged APEC issues.
APEC vehicles recovered and other remaining stocks of APEC vehicles will be prepared for BoS review and evaluation by the Department of Works. The NPC Board will then assess and approve on the BoS evaluation from Works Department.
The NPC Board will further approve on the public tender for all remaining stocks of State purchased APEC vehicles.
All remaining stocks of APEC vehicles will be disposed by way of public tender though National Procurement Commission.
As a team and government stakeholders, we look forward to serving the government and its people while following the established government procurement processes.
"The government is committed to ensure that it employs a fair and transparent distribution of wealth for our citizens to benefit in this APEC vehicles disposal processes," Sir John said.
SOURCE: POST COURIER/PACNEWS